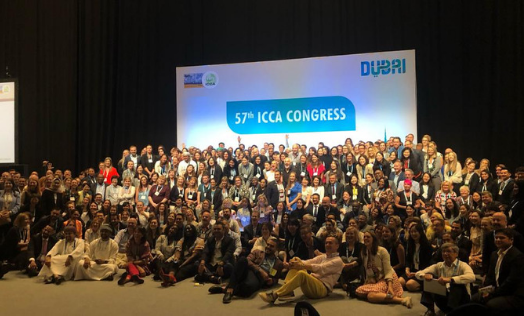 19-11-2018
What it takes to be a mentor at ICCA Congress
ICCA is the global community and knowledge hub for the international association meetings industry and Francesca Manzani, Head of AIM Group Florence Office, was a mentor for First Time Attendees at the latest ICCA Congress in Dubai, 11-14 November
What is it all about?
The ICCA Congress provides a strong, custom-designed education programme for senior industry practitioners, while giving many business opportunity for all delegates throughout the event programme.
Exceptional networking at a high and global level and a first-hand touch of the most up-to-date use of event technology are only two of the advantages of taking part in this Congress.
Who goes to the ICCA Congress?
CEOs, company owners, senior directors, but also middle managers and more junior roles are awaited at the Congress every year. This demonstrates that every event professional could benefit from such a crucial event in which peers meet from every corner of the world. Even more important it is for professionals who never previously attended the Congress. The First Time Attendees Program is designed to offer an excellent way to understand how to get the best Return on Investment. Nevertheless, in order for them to feel welcome at the Congress, they need a mentor.
What it takes to be a mentor at the ICCA Congress?
This was a record year as per the number of First Time Attendees at the Congress: 384 event professionals joined for the first time and Francesca Manzani was a mentor for a group of 7 of them.
As a Mentor, her task was to ensure not only that ICCA made first timers feel welcome during the Congress, but also to trigger them with points of reflection, like the reasons, challenges and objectives of their attendance. Moreover mentors had to guide them in choosing the sessions to attend, which were custom-designed for senior industry professionals and sometimes quite overwhelming for newcomers to select from the huge variety.
Both mentors and newcomers spent 4 intense days of active participation and they surely got something new in their pocket as per knowledge, education, partners and friends!
What is Francesca's background at ICCA?
She was a First Timer in 2004 and she attended the FTA session in Cape Town. There were around 100 First timers at that time and the chance to meet new beautiful people was very high.
After that fantastic and inspirational experience, she decided to do something to be recognized in ICCA as person, company and destination. She formed the ICCA Italian Committee from scratch with a precise objective: bringing ICCA to her country!
After that, the ICCA Congress 2009 was hosted in Florence, while she served as Co-Chair of the Local Host Committee and also as the local PCO.
Then she entered the ICCA Board of Directors in 2010, serving the Association for 6 years as Board Member representing the Meetings Management Sector.
At her side in the last 4 years on the Board, there was a special person who she met at the FTA in 2004 and with whom she established a true friendship. This friend of her is James Rees, the newly elected President of ICCA!
Why is mentors' commitment so important for ICCA?
"Without YOU, the First Time Attendee Programme would not be possible and I would like to express my sincerest gratitude to all of you for your dedication and commitment. We do our utmost to acknowledge your great assistance through various channels, but there are simply no words, which can demonstrate how much your help means to us", said the ICCA Liaison Officer FTA Programme.
The FTA programme has over the years been delivered to over 3000 delegates so far, specifically designed to help them network, do business, learn, and overall maximise the benefits of attending their first ICCA Congress, in order to be well prepared for the next to come!
Will you be the next mentor or newcomer at ICCA Congress in Houston?
Do you want to be updated on our latest projects, events and the industry news and trends?
Please, subscribe to our quarterly AIM Insights Newsletter by clicking here