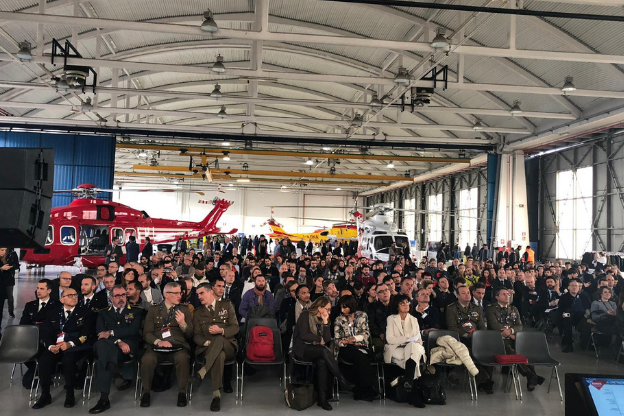 03-12-2018
Shaping the future of Helicopter Emergency Medical Service with an innovative, engaging event
Over 600 people attended the first Remote International Meeting HEMS organised by SIAARTI (Italian Society for Anaesthesia, Analgesia, Resuscitation and Intensive Care) and Leonardo (the global high-tech company leader in Aerospace, Defence and Security, with over 45,000 employees), with the support of AIM Group International. The highly innovative and technological event has just been held on 1st and 2nd December at the Leonardo Helicopters plant, near to Milan Malpensa Airport.
The most important international industry experts convened to share the future developments and guidelines of the search and rescue helicopters medical operations. This was the first event of its kind realised with a high-profile scientific content, a direct involvement of different Authorities, and the strong collaboration among the Scientific Association and the industry technical operators such as Leonardo. AIM Group International, which has a long collaboration with SIAARTI, supported the realisation of an effective and interactive congress.
Thanks to two days intense work, the delegates had the opportunity to discuss the crucial issues and innovations with a multi-format, engaging event which included parallel medical and technical sessions, practical workshops, round tables and rescue simulations both at the Hangar with a high-fidelity simulator and on flight.
All the main topics were covered, from the air-sea rescue over water to long-distance flights, from regulations and standards to the future medical and aviation concepts which will make a "flying hospital" a reality. The direct dialogue between physicians and aeronautical experts contribute to identify the solutions to build helicopters better equipped to save more lives.
The event was held at the Leonardo Helicopters plant adapted to host all the moments, an auditorium plenary session, the parallel sessions and workshops and the expo area.
Do you want to be updated on our latest projects, events and the industry news and trends?
Please, subscribe to our quarterly AIM Insights Newsletter by clicking here