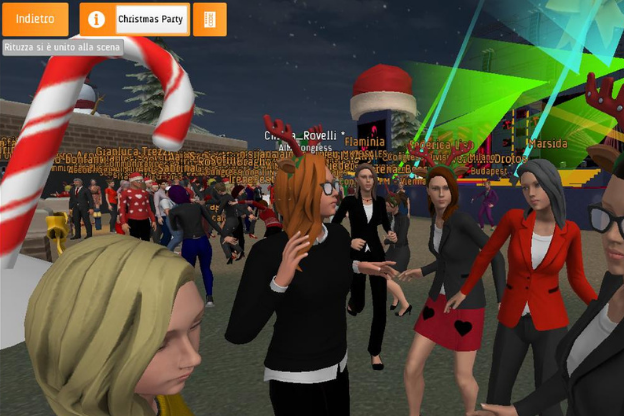 16-12-2019
Three ideas for an original Corporate Christmas party
It is the time of year for traditional celebrations and corporate parties. Delivering something unique every year it is not easy, creativity and out-of-the-box solutions are needed.   
With the end-of-year holidays approaching, companies are planning cocktails, dinners and Christmas parties involving management and employees in order to share pleasant moments, recap on the year's results, and celebrate before the annual break. Organising the same type of event every year with practically the same audience, requires us to be particularly creative and to find new solutions that surprise guests. Blending different worlds and activities can be helpful to deliver original, out-of-the-box thinking.  Here are three examples of parties that AIM Group teams* have organised around the world:
Santa Claus House. Recreate the set-up of Santa Claus's house and involve guests in fun, festive activities. Call on a team member to play the part of Santa, with hostesses and stewards playing the part of elves. Create a photo area where guests can take pictures to share on social media.  Before the dinner and during the cocktail, propose creative, team-building activities  like: making tree decorations, wrapping presents to donate to charity organisations, writing artistic Christmas cards, dressing-up in "Frozen style", singing traditional Carols with the aid of professional musicians, glassblowing Christmas balls, baking delicious cakes to take home, etc.. The variety of activities means that everyone can be involved.
Surprise Christmas Party. Invite guests to attend an end-of-the year meeting without referring to a Christmas party. Start proceedings with a standard meeting set-up, business presentations or softer team building/educational games. Then, at a certain point open the curtains and enlarge the room to a Surprise Christmas Party with a big tree, presents for employees, winter cocktails, music and a photo shoot. Fun is guaranteed.
Christmas Market. Recreate a Christmas market village setting, with stalls where you can have hot drinks, eat festive bites and buy items and gifts. Leave the guests free to circulate during the cocktail and have their own personal experience.  Movie or fairy tale characters can come out of a large Christmas box to interact with guests, take pictures and accompany them to the dining room. Don't forget unique features like artificial snow falling as guests depart.
Finally, one last tip: mix up the formats, taking the ideas that you like the most to deliver a very special event that reflects your location, budget, tastes and the expectations of your guests.
* Thanks to: Felipe Gonzales from the Barcelona office, Kristofer Herlitz from the New York office, Francesca Baù from the Milan Office and Madalena Miranda from the Lisbon Office for their suggestions.