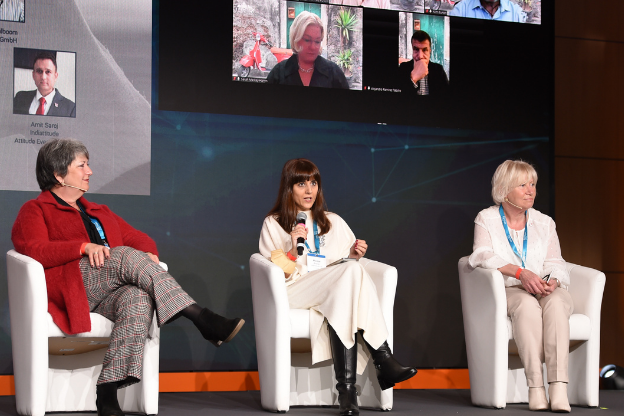 07-03-2022
Monica Freire, AIM Group, confirmed in the IAPCO Council for 2022-23
The association will support more than ever the industry community and its members with education, knowledge sharing and the training for younger generations to stimulate the recovery
Monica Freire (in the picture, speaking at the recent IAPCO General Assembly in Rome), Congress Department Director Iberia Region – AIM Group International, has been re–elected to the new Council of IAPCO (The International Association of Professional Congress Organisers) for 2022-23 term. She has been covered the same role in the last 4 years.
IAPCO, with 137 company members across 40 countries, represents the best qualified professional organisers in the world with the mission to raise the standards of service by means of continuing education and interaction with other professionals. The Council oversees the Association with the aim of ensuring that the quality standards as set are maintained, members are effectively served, the association responsibilities are fulfilled in accordance with its statutes in a professional and financially viable manner.
"IAPCO is committed more than ever on ensuring that the industry community and especially our members can benefit from our high-quality standards and educational programmes" outlines Monica Freire, commenting her election. "We have been working hard to support our members at all levels with the best in-person and virtual learning opportunities and will continue to deliver in such way. One of my main goals for the new term as Council officer is to continue working with Council, HQ and the valuable Ambassadors team to provide all the support to new members and increase engagement among members and new generations".
About the most important challenges for event organisers, in the difficult post-pandemic market she adds: "We have certainly proven that our expertise is unreplaceable and that we are leading the changes in our industry. We need to keep on embracing the ever-changing meetings environment, exploring how technology can support us on catering for bigger and more diverse audiences now that we are moving towards in-person events again and continue delivering high quality meetings we have always done".
Considering how can the meeting industry recover attracting young talents she points out: "Recruitment is already a hot topic as we are accelerating out of the pandemic; operational and project management resources have always been challenging to recruit and more evidently now and this is an issue that we are all facing: attracting new people to our industry, finding the right profile and training them is a huge undertaking that IAPCO is well aware of and I'm sure will be able to support our members with".
Monica Freire has been working at AIM Group International since 2010 and has been heading the Congress Department in Lisbon since 2012 and for the entire Iberia region since 2020, dedicating her time to establishing the Lisbon Office as one of the major players in the local industry as well as growing its presence internationally. Starting her career in the congress industry in 2001, she has developed her skills as a congress and corporate events manager as a PCO and in the Pharma Industry. She has been involved in the bidding, planning and onsite coordination of both national and international conferences.