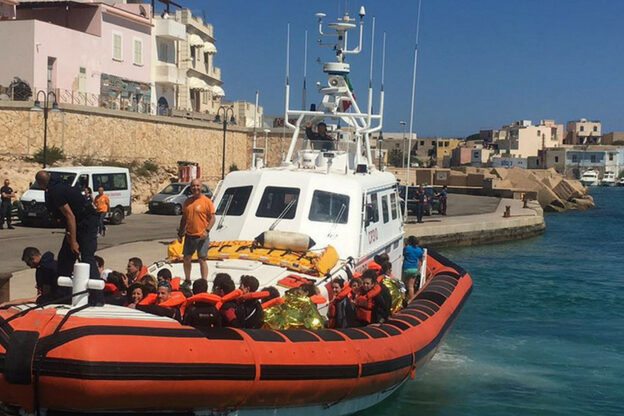 31-05-2018
Long-Term Legacy left on the Island of Lampedusa with SIAARTI Academy 2018
The award-winning training project SIAARTI Academy succeeded in organizing an even more exceptional 2nd edition on the Island of Lampedusa.
Last year the Academy of SIAARTI (Italian Society for Anesthesia, Analgesia, Resuscitation and Intensive Care, had the aim of presenting real life challenges in the field of Critical Emergency Medicine (CREM) through hands-on sessions and a simulated experience of a maritime disaster.
SIAARTI was eager to find an innovative way to train its young members and AIM Group turned out to be the preferred partner (having organized its Annual Meeting for years) to develop the right training format for around 100 students.
As we already underlined on occasion of the first edition of the Academy, organizing an event on such an island enabled some local facilities to be revaluated and successfully adapted to the needs of the meetings industry: an important Legacy was left behind on the destination.
"We are now incredibly proud that this project did not only achieve resounding success last year, but a second even more outstanding edition just finished on the Island of Lampedusa", claimed Gaia Santoro, Project Manager Congress Division at Milan Office, who powered this AIMazing event.
This time the young doctors were almost doubled and the maxi-simulation included not only a reality-like maritime disaster, but also a simulated massive car accident with rescuing helicopters involved as well.
All in all the impact was crucial to the emotional involvement of the delegates, that played the roles of the victims, the rescuers and the observers, but also to the choice of a destination such Lampedusa. This island is sadly known for the Europe's migrant crisis, but turned into the most suitable place to show the impacts around the issues of emergency aid.
This year we demonstrated that Legacy is not a one-shot commitment, but that the meetings industry can also leave a long-term legacy and a long-lasting positive impact on an entire destination and its local players.
Here below an impressive VIDEO of SIAARTI Academy 2018 – The Maxi Simulation.
Click here to read the Impact Story related to SIAARTI Academy 2017