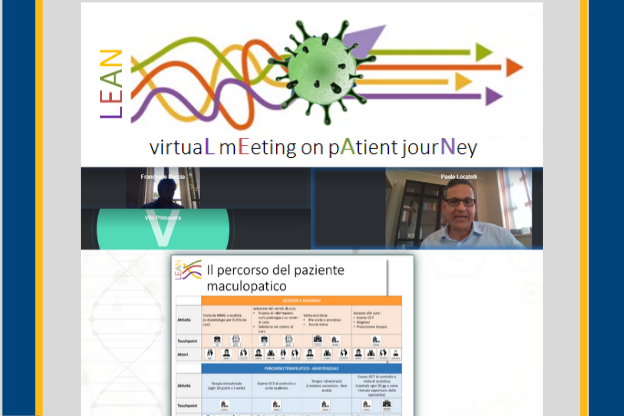 16-06-2020
LEAN Virtual Meetings facilitate discussions among hospital ophthalmologists
AIM Group is supporting the organisation of a virtual task force involving ophthalmologists from different cities that will work on defining new procedures for ensuring the safety of patients in hospitals.
The first virtual meeting brought together the managers of about forty Retina Hospital Centers in Italy, started this week. The aim is to ensure the analysis of critical issues, the sharing of experiences and the identification of effective solutions to define a new diagnostic and therapeutic journey in hospitals for ophthalmological patients. Most patients suffer from retinal pathologies and degenerative maculopathies. Maculopathy is a chronic ocular pathology, increasingly widespread especially in the over 60's population. It is among the main causes of vision loss and blindness, which needs prompt and repeated treatment.
During the lockdown, healthcare facilities were obliged to reduce their activities, in some cases limiting access to emergencies only. In addition, operating rooms were dedicated to manage the Covid-19 emergency, precluding the intravitreal treatments for patients with maculopathy.
With the gradual recovery of activities, in this post-emergency Covid-19 phase, it became indispensable to redesign the patient's journey within the hospital structures in order to guarantee both access and continuity of therapy and safety, especially since this kind of treatment does not permit the recommended social distances.
A group of specialists decided to promote the LEAN – Virtual Meeting on Patient Journey project, which involves 40 hospitals and will develop regional discussion tables, with the support and advice from Milan's Politecnico University. These meetings, scheduled between June and July, will be realised on virtual platforms to facilitate participation and interaction, overcoming travel and distancing issues. This project is realised with the technical support and organizational secretariat of AIM Group International and the non-binding sponsorship of Novartis.