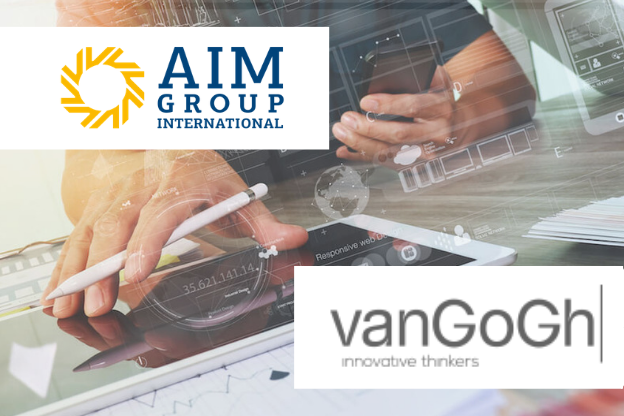 09-04-2019
Investing in Integrated Digital Communication
AIM Group acquired the majority stake of VanGoGh communication agency and can now provide an integrated conference, communication and digital offering.
Associations and corporate clients are increasingly seeking support to build their brand profile, define their event goals, design and format as well as planning their communication and digital strategies.
At AIM Group we like to partner with clients and provide them with innovative and complete solutions. We pride ourselves on providing the most recent cutting edge, expertise and resources.
Thanks to the acquisition of vanGogh agency, specialised in creative digital and communication services, we are able to provide an integrated conference, communication and digital offering supporting associations and corporate clients with branding, strategy and communication.
VanGoGh is a dynamic and creative agency, which received more than 70 national and international awards. The team is specialised in brand reputation, digital and SEO strategy, digital advertising, web design, mobile sites and app development, video communication and social media management.
AIM Group will capitalise on this outstanding expertise to deliver value added to our clients. «With the evolution of the market, we decided to further invest in this agency. The deeper integration allows AIM Group expand our offering to cover increasingly strategic functions to support our customers in a complete and innovative way» explains Gianluca Scavo, CEO AIM Group International.
Thanks to this acquisition, AIM Group takes over the management and operations of VanGoGh and establishes a new governance structure. The new board of directors is composed of Massimo Galli, founder and CEO of VanGoGh, holding the position of President, Gianluca Scavo, CEO of AIM Group International, as Managing Director, and Nicola Sciumè as the new CEO.
«After two decades of rewarding and exciting work, we are proud to be part of a reputable company like AIM Group – says President Massimo Galli -. Events and communication are deeply connected and these new assets to our portfolio of services will help boost our client's results. We will be in a position to deliver even more than what clients expect.»
Do you want to be updated on our latest projects, events and the industry news and trends? Please, subscribe to our quarterly AIM Insights Newsletter by clicking here