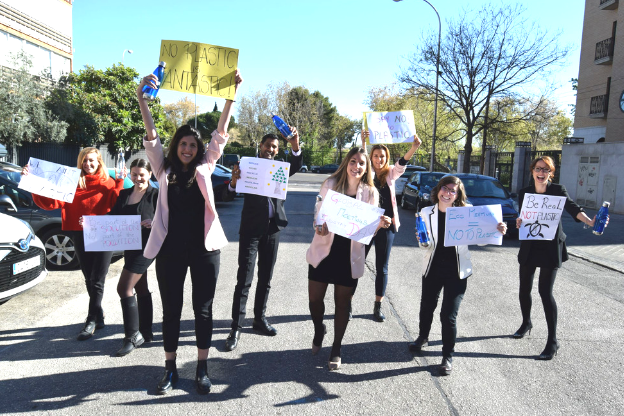 16-04-2019
Making the industry greener: a daily collective commitment
Each of the 350 AIM Group staff members received an eco-friendly bottle on Global Meetings Industry Day. It is one of the initiatives AIM Group promotes to reduce plastic use and environmental impact.
On the 4th of April – Global Meetings Industry Day – each of the 350 AIM Group staff members in 17 offices across 11 countries, received an unexpected gift: a brand-new eco-friendly bottle to use and reuse every day instead of using and wasting single-use plastic bottles. "Wasting one or two plastic bottles every day has made me embarrassed for so long, so I really welcomed this initiative. Coupled with the installation of new water dispensers in our office this will really help me reduce the environmental impact of my daily office life" said a project manager in Milan.
Environmental sustainability is a major challenge nowadays in every aspect of our lives, but in particular relating to business and work. That is why AIM Group International considers it a crucial matter to deal with. "As a professional congress and event organisers, we are taking this topic very seriously. We regularly consult experts and other international colleagues in the meetings industry to identify new ways to reduce the impact of our business," explains Patrizia Semprebene Buongiorno, vice president AIM Group International.
"We are promoting a series of activities under the umbrella of IAPCO' CSR campaign: Not just a drop in the ocean and we are part of the IAPCO Plastic Pledge. At the upcoming international tradeshow, IMEX Frankfurt, visitors and business partners visiting our booths will receive our eco-friendly bottle, made from an innovative ecologic material, which is 100% recyclable. Also, we recently promoted a waste recycling campaign and a comprehensive education program for AIM Group staff members to encourage them to increase recycling and improve the quality of materials they use" adds Patrizia.
AIM Group's commitment  to reduce our environmental impact is also influencing the way we plan our  events and congresses. Giving food another chance and redistributing surplus food has become a common feature, so at our meetings we recover surplus food and redistribute it to people in need. Reducing and  recycling plastic programs at events is another a priority, from badge holder collection to using reusable dishes and cups or organising paperless conferences with digital invitations, e-posters and apps.
Realising environmental friendly conferences is not only possible but it is our daily commitment!
Do you want to be updated on our latest projects, events and the industry news and trends? Please, subscribe to our quarterly AIM Insights Newsletter by clicking here