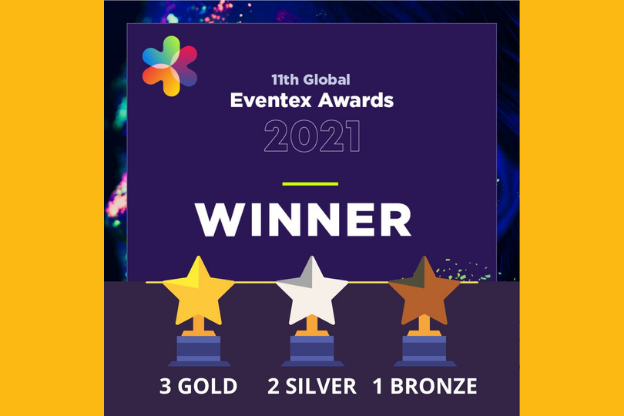 11-05-2021
Innovation and creativity in a virtual environment: AIM Group International wins 6 prizes at the Eventex Awards
The huge commitment spent in 2020 to innovate event formats limited by the pandemic sees the recognition of innovative, hybrid and digital projects, which stood out due to their effectiveness, creativity and responsiveness.
AIM Group International is confirmed as a leader in the organization of engagement, networking, communication and knowledge sharing projects with a high rate of creativity and innovation, capable of overcoming important limits and in short time, as happened in 2020.
AIM Group International received six awards: three golds, two silvers and one bronze at the Global Eventex Awards which is a global competition that annually rewards excellent projects in the meeting industry. The winners were chosen from 561 projects presented by 37 countries around the world.
Here is a list of the awards received by AIM Group:
Gold Prize – Association Meeting: Travelling with ICARE.
Gold Prize – Virtual Networking Event: AIM Christmas Party.
Gold Prize – Virtual Tournament: SIR Run Virtual Marathon.
Silver Prize – Educational Event: Travelling with ICARE.
Silver Prize – Virtual Association meeting: With open arms… at FIMP House.
Bronze Prize – Virtual Gamified Experience: AIM Christmas Party.
"We are really proud of these awards because they all concern projects carried out in new areas, with hybrid or fully virtual events, which demonstrate the ability to react to the serious crisis that the events industry had to face in 2020. Our deep knowledge of the dynamics of events coupled with our creative flair meant that we designed original and effective solutions for our clients" says Patrizia Semprebene Buongiorno, Vice President AIM Group International.
The motto of the Traveling with ICARE event was "If you can't participate in ICare, ICare will come to you". SIAARTI, the Italian Society of Anaesthesia, Analgesia, Intensive Care and Resuscitation, together with AIM Group broke the mould and overturned the congress concept by creating a traveling hybrid event. A SIAARTI branded truck (with a pop-up meeting area and recording studio) visited 8 major Italian hospitals in 8 different cities and travelled 1,800 km to faciliate discussions and shared experiences among the anaesthesiologists-resuscitators They achieved this in the middle of the pandemic by reaching them where they work, rather than asking them to travel to the congress. Over 800 people, including doctors, experts, health managers, local administrators and sponsors, were involved in dozens of round tables, interviews and events.
Meeting and celebrating before the Christmas holidays is an important event in corporate life. To overcome the distances and gathering limitations, AIM Group involved all employees for a Christmas Party on a customized virtual platform with avatars and engaging networking activities. The format allowed people to spontaneously chat in groups and move freely in space like in real life, taking group selfies and even dancing together: the party was spontaneous, fun and memorable.
Even a marathon can go digital. To raise awareness on rheumatic diseases, the Italian Society of Rheumatology transformed the traditional annual run into a personal digital project involving young people. The SIR Run 2020 was held throughout Italy under the same banner: "Let's run together against rheumatic diseases". Each participant was invited to run in their own city and to make 4 short videos with their mobile phone to tell who they are, why they love to run and to include their favourite place to run and in their city. The videos were edited in a docu-film presented at the Giffoni Film Festival.
For the annual congress of the Italian Federation of Paediatricians, With open arms … at FIMP House offered a unique and unprecedented experience for a medical-scientific congress, transforming a completely digital event into an opportunity for meeting in an innovative way, keeping both participation and engagement high. An immersive, 3D environment, reproduces like a family home, with a sophisticated and appealing layout, and the strong personalization of content and virtual experience guaranteed a great appreciation from the community of family paediatricians.
"I would like to thank, first of all, all the AIM teams involved in these projects, who in the last year have expressed even greater determination and generosity to overcome the many difficulties, for example, working remotely and to the overall uncertain situations that were unfolding which meant plans changed several times" adds Patrizia Semprebene Buongiorno. "I would also like to thank the clients who were brave and decided to turn limits into an opportunity to experiment with new ways of interacting and involving their audiences, venturing with courage and trust during a challenging time for all organizations".