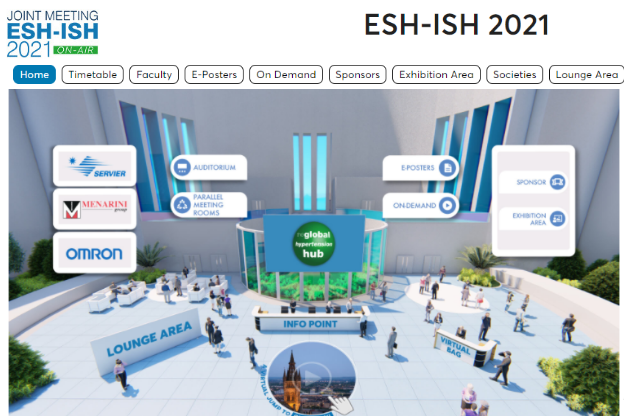 04-05-2021
Huge success for ESH-ISHs first joint virtual meeting
This successful collaboration of two scientific societies saw a massive increase in audience levels, younger participants, geographic diversity and engagement on key scientific topics.
Every six years the European Society of Hypertension and the International Society of Hypertension gathers the global community of experts in hypertension for the international ESH-ISH Joint Meeting.  The 2021 meeting was fully virtual and had a huge success.
Originally planned for 2020 as a face-to-face meeting in Glasgow, the complex event was postponed to 2021 and then due to the persistent pandemic it was moved to a fully digital format. It was quite a challenge since the 4-day meeting involves 300 speakers, 118 scientific sessions, 7 parallel break-out rooms and simultaneous translation. The organisation and technical management was particularly demanding considering that the meeting involved 130 hours of live streaming, 80 staff and 700 questions during the live session.
One of the major results was the substantial increase in attendance: There were 5.380 registered participants which was an incredible +150% versus previous in-person meetings.
Thanks to the virtual nature of the meeting participants connected from all over the world, reducing travel related costs. By offering a lower-than-normal delegate fee to facilitate the participation the meeting reached a larger number of countries – 128 in total. For the first time, the top ten countries saw participants from India as the larger group, a higher percentage than usual from countries such as Myanmar, Argentina, Romania, and the Philippines. Also, a very high percentage (25%) of participants were under-35 years old which bucked the trend of previous years.
"The meeting communications campaign lasted almost 18 months and was particularly attractive with news, scientific updates, video interviews and video abstracts about the planned sessions, email blasts and newsletters, and a social media campaign with an active engagement from opinion leaders and meeting ambassadors" explains Maddalena Massaro, Business Manager Hypertension Unit at AIM Group International.
Thanks to the campaign and the support from both the international scientific societies: ESH and ISH, the event attained huge participation, engagement and interaction: 784 live speeches and 576 presentations were broadcast, with Q&A and comments, emojis reactions and polling involving online delegates. All the content was made available on-demand on the personalised 3D event platform for one month after the event, extending the lifespan of the meeting and allowing participants to watch further parallel sessions they were unable to attend.
Regarding client satisfaction, the Congress President, Professor Anna Dominiczak, gave very positive feedback during the closing ceremony: "I would like to thank the entire AIM team, including the technical team, for bringing to life something we had never done before and for the patience and the ability to adjust to a completely new way of doing things".