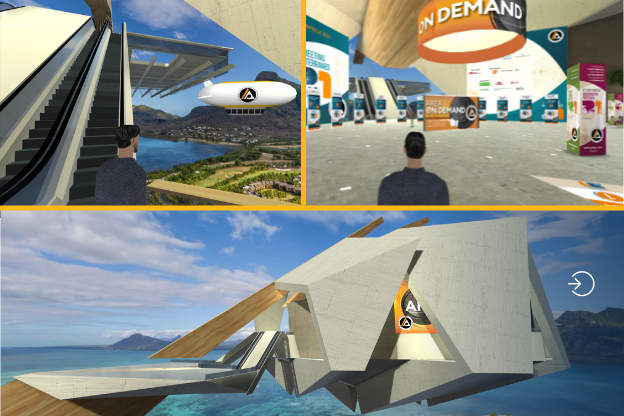 13-05-2021
AIOP XIII Mediterranean Meeting, the first one with avatars
A 3D immersive platform with personalised avatars helped attendees to spontaneously interact and actively participate in the annual congress
In April of 2020, AIOP was the first scientific association to organise a fully virtual congress. In 2021, the association has continued this innovative tradition with the first scientific congress realised with personal avatars on a 3D immersive platform.
The annual Mediterranean Meeting is the most important appointment for the Italian Academy of Prosthetic Odontology, gathering dentists and prosthodontics. AIM supports the Academy with association management services.
The three-day digital event was held from 15 to 17 April, with a light schedule program designed not to hinder the activities of the practices and to facilitate live participation (From 4 to 6:30 on Thursday and Friday, and on Saturday morning) with two parallel breakout rooms and some sponsored workshops.
"The most important novelty concerned the web platform, based on a 3D setting and personalised avatars, chosen to make the virtual experience more immersive and engaging, capable of reproducing the experience of a real congress as much as possible, where attendees are free to move between the various congress spaces and meet the other delegates" explains Cristiana Tugnoli, project Leader AIM Group.
In fact, an important feature offered by the platform provides the free interaction with the other avatars, with which you can spontaneously start a conversation when you meet them in space as in real life.
The virtual conference centre included a large welcome hall where you can orient yourself, leave to access the various spaces and networking, an exhibition area with customised virtual stands, where you are able to make one-to-one meetings with the representatives of the companies present as avatars, see videos, download brochures, and go in conference rooms where the scientific sessions were held.
Navigation was simple and user-friendly and enriched the experience of a congress which went smoothly.
"On the same platform, developed by an external supplier (not by AIM), it is possible that some of the upcoming events, including the international congress to be held in November, may also be hosted, although the prevailing desire is to do so in person if possible" adds Cristiana. "Once again, we must be ready for different solutions and to rapidly switch if needed".