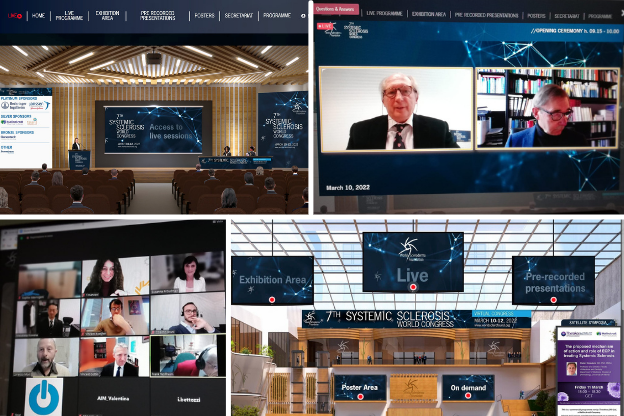 21-03-2022
Fully virtual and highly interactive
The 7th Systemic Sclerosis World Conference was organized online with highly interactive discussion sessions.
The biennial Systemic Sclerosis World Conference, dedicated to this rare, complex and serious disease was supposed to be held in person in Prague. In the end, it was organised as a fully virtual event, to accommodate the largely international audience whose travel was constrained. There was a strong focus on discussion and interaction among participants. The conference recorded a good attendance of rheumatologists and healthcare professionals with +990 attendees from 65 Countries, 100 speakers and 70 moderators.
All lectures and oral communications were pre-recorded and published on the event platform 10 days before the actual conference. During the 3-day virtual congress (10-12 March) the 19 sessions were dedicated solely to discussion about their content, so the real leitmotiv of the event was interaction. These sessions were repeated twice in the same day to facilitate attendance from all time zones (from Asia to North America).
The 194 posters were stored on the platform in advance with a pdf file and a recording of a 3-minute speech. The authors remained at disposal for written questions. The Pharma Satellite Symposia were only held live. Sponsors also had a virtual exhibition area where they could promote multimedia content (video, pdf, links).
All discussion sessions together with the pre-recorded presentations were recorded and remained on demand for all registered participants until September 2022.
The World Scleroderma Patient Congress 2022 was also held alongside the medical congress and was promoted by the Federation of European Scleroderma Associations (FESCA). This concurrent congress is aimed at patients suffering from Systemic Sclerosis and addresses various aspects of the management of the disease, both in adulthood and in childhood. Latest findings and innovations in treatment, such as psychological health, fatigue and pain management and dealing with a new diagnosis were covered. World-renowned specialists and patients shared their experiences.
All sessions, except for two round tables, were previously recorded and reproduced online, leaving the live part for discussion and questions from the participants. To facilitate understanding, 12 sessions were translated simultaneously into 6 languages ??(French, German, Italian, Hungarian, Spanish, Swedish).
This patient event had excellent results in terms of numbers with over 1,000 attendees from 66 different countries, many more than the approximate 300 participants who attended previous patient congresses. The fact that patients were able to follow the sessions from home without having to take on the difficulties of a journey had a real impact on attendee levels. For this reason, even for the next editions, the patient' congress will continue as hybrid, to allow for remote participation.
"In this second virtual edition we registered a record number of attendees to this two-in-one event. More than 2.000 attendees overall, connected in the three-day virtual congress, a totally unexpected result" affirms Francesca Manzani, Head of AIM Florence Office. "This result convinces us to go for a hybrid mode event, boosting attendance from long distance countries and the U.S., where the illness is particularly spread, thus offering additional added value to our sponsors".
The World Scleroderma Foundation decided to create a congress exclusively dedicated to this rare disease and AIM Group has been the preferred partner from the beginning. So far, seven editions have been organised with excellent results (read the full story).