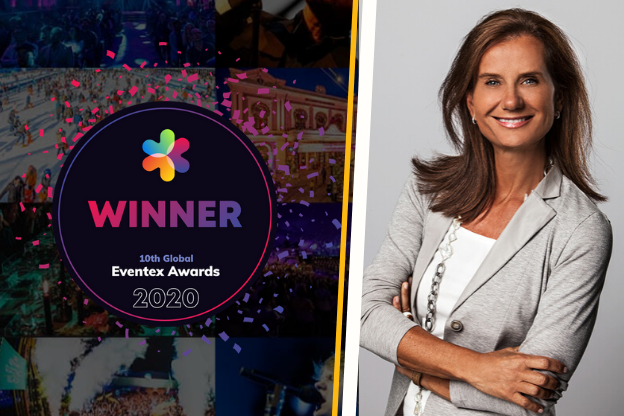 20-05-2020
Face to face events are invaluable as Eventex Awards demonstrate, says Patrizia Semprebene Buongiorno VP of AIM Group
AIM Group International received four Prizes at Eventex Awards 2020 for events made memorable thanks to unique experiences and a strong link to destinations and local communities
"Face to face events are unique, memorable and have the ability to engage people through interactions, emotions and stories that in truth you just cannot experience in a virtual environment. Eventex Awards demonstrate how events that connect with the heart of a destination, its local culture, heritage, attractions and professional community will always stand out above the rest", says Patrizia Semprebene Buongiorno, Vice President AIM Group International, a company specialised in congresses, events and communication.
AIM Group International has just received four Prizes, one Gold and three Silver at the 10th Global Eventex Awards. This global competition annually rewards the most creative and impactful events. The winners were chosen from among 444 entries from 39 countries around the world.
"The Eventex Awards represent a showcase of best practice and innovative solutions in the live meetings and communications industry. It is really important for us and our teams to receive this recognition today. This is a confirmation of our steady commitment to crafting the perfect experience for our clients with innovative solutions and bespoke projects " adds Patrizia.
AIM Group participated in this year's awards with submissions in various event categories providing evidence of the wide range of industries and clients managed by the Group, from an international scientific congress with an innovative programme; to a mega social convention of a well-known volunteer organisation; to a highly interactive and creative medical congress.
Here is a list of the awards received by AIM Group:
Gold Prize – Category Scientific Event and Silver Prize – Category Association Meetings: World Tunnel Congress WTC 2019;
Silver Prize – Category Medical Congress: Pinguini Paediatric Congress;
Silver Prize – Category Convention: 102° Lions Clubs International Convention.
The World Tunnel Congress, held in Naples, was marked by activities and powerful content strongly linked to the destination and the local community. The innovative programme attracted a record number of attendees and a high number of exhibitors.
The Pinguini Paediatric Congress was created as an unconventional medical congress with a mixture of innovative communication coupled with a creative approach. Dante's Divine Comedy provided the backdrop to the scientific program blended with the local culture, which is so evident in a city like Florence.
Lions Club International annually organizes a world convention, including numerous social activities, charity projects and a Parade of Nations. The last edition was a record-breaking event with 25.000+ delegates held over 20 event days encompassing a colourful parade of 15.000 people weaving through the narrow streets of Milan's city centre.
"These award winning events are highly distinctive. Working in close collaboration with the client, we have managed to leverage the very specific local context where the event was taking place. For example, for the World Tunnel Congress, we invited tunnel engineers to visit ancient Greek and Roman caves or the underground of Naples; we celebrated a major public event which involved 15.000 Lions Club members from all over the world with double that number cheering from the sunny pavements of Milan. These are vivid memories that enrich these events and make them different from previous editions".
"At AIM Group, we are convinced that virtual events are a good solution for the present situation. For many of our current association congresses, we are thrilled to create interactive and tailor-made projects, according to each client's own context and needs. As event professionals, we must free our imagination every day, leaving our comfort zone and our well-established procedures, visions and job roles, re-inventing our profession with creativity and courage."
"Thanks to digital events and remote working, we are experiencing the efficiency of a 100% digital lifestyle. Although we are also realizing that something is missing: the physical sense of belonging, the richness of human interactions, the emotions and vivid memories related to real-life experiences".
"We believe in the power of events and the value they can offer to companies, associations, sponsors and participants and destinations as well as the local community. When the health emergency is over, people will feel the need to meet again face to face more than ever; to discover new places, locations, cities and local food; develop new skills and attitudes thanks to experiential education; networking with peers and colleagues; to build collectively, new unforgettable experiences" concludes Patrizia.