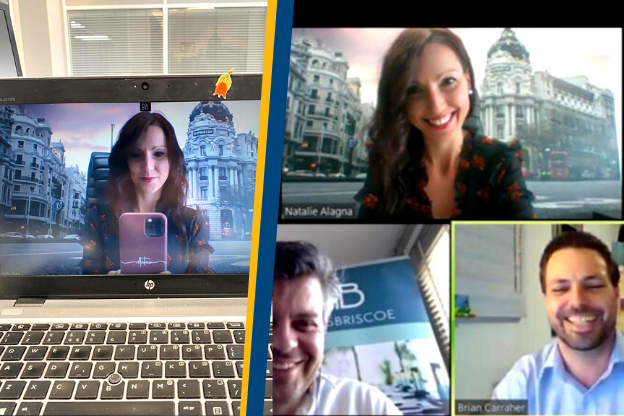 29-05-2020
7 Tips For Giving Effective Virtual Presentations
Smart working is changing the way we make business meetings, clients appointment and presentations. Some tips on how to do it effectively, avoiding to become boring.
by Natalie Alagna, Director International DMC Development – AIM Group International
As the smart working from home is the most common situation in these unprecedented times, it is easy to found ourselves in some tricky new situations such meeting a client, presenting them a project or convincing our board of directors in front of our computer. Here are seven tips and one extra recommendation around what to know before you go live and get better results.
Be Brief. Audiences begin to lose attention after roughly 10 minutes of hearing from the same presenter. Use interactive activities to keep your audience engaged (for example, take a poll, give quizzes, or ask audience members for their opinions via chat).
Be Simple. Keep slides simple — avoid too many words, graphics and animation features. Less is definitely more! Make sure the pictures you use are high quality and bright.
Be Prepared. Practice delivering your presentation with your technology in advance of your talk. Make sure all of the features of the technology work. Record your practice using the recording feature of your tool. Watch and listen to learn what works and what you can improve.
Be a TV Personality. Look straight into your camera, not the screen, you need to make a connection with your audience. Check your angles, make sure you are not too far or too close to the camera. Wear clothing that is neutral in colour. Raise your voice, standing can sometimes help.
Prepare the set-up. Ensure you have the correct set-up and surroundings (bookcase or writing desks are a good solution) and avoid eternal distractions if possible. Light yourself well, avoid windows at your back, and from above (also check your camera is not dirty).
Be Specific. Ask pointed questions to avoid too many people answering at once. For example, rather than ask, "Are there any questions?" try "Who has a question about the solution I provided?". Set a ground rule that people state their names prior to speaking.
Be Synchronized. Transitions are critical. You must connect what you just said to what is coming next when you move from point to point. Transitions between topics and slides are good opportunities to get people reengaged to your talk.
Finally, if you want to keep the attention high, being persuasive and memorable, don't forget this extra recommendation, always valuable, also for face to face meetings:
Have Fun. Over and above everything else, remember to have fun. If your virtual presentation gives you and your audience the opportunity to laugh, smile and connect, it will be a rewarding experience for everyone. Happy people retain information better and longer than bored or disinterested ones.