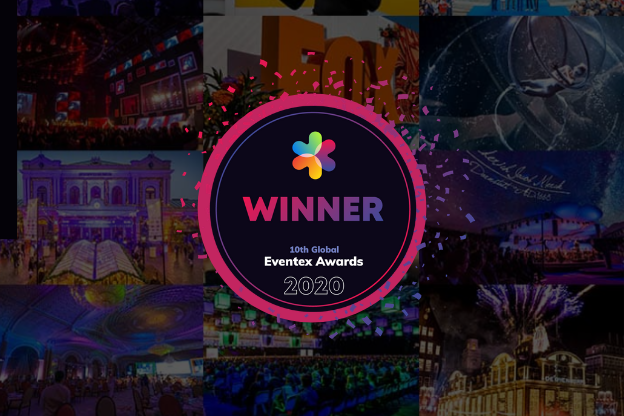 12-05-2020
AIM Group International receives four Prizes at Eventex Awards 2020
With the Gold Prize for WTC 2019 and three Silver Prizes, AIM Group can count overall 15 Eventex Awards received in the last years.
AIM Group International is among the most decorated companies with four Prizes, one Gold and three Silver, at the 10th Global Eventex Awards, the global competition which annually rewards the most creative and effective events. All the finalist projects have been chosen among 444 entries from 39 countries from around the world.
AIM Group participated in this awards edition with submissions in different event categories providing evidence of the wide range of industries and clients managed by the Group, from an international scientific congress, with an innovative programme enriched thanks to the link with local scientific heritage and attractions; to a mega convention of a well-known volunteer organisation, with its stunning social moments and a transportation plan which managed to move 85.000+ people; to a highly interactive, creative medical congress.
These are in particular the awards given to AIM Group:
1st Gold Prize, Category Scientific Event – World Tunnel Congress WTC 2019
2nd  Silver Prize, Category Association Meetings – World Tunnel Congress WTC 2019
Last highly distinctive edition of World Tunnel Congress, held in Naples, was marked by topics, activities and powerful contents strongly linked to the destination and the local community. The innovative programme attracted a record number of attendees and an increase in exhibitors.
Read the Impact Story or Watch the video of WTC 2019 to know more about our challenging and successful Congress:
2nd Silver Prize, Category Medical Congress – 23° Pinguini Paediatric Congress
An unconventional medical congress with a mix of great communication coupled with a creative approach. Scientific knowledge was blended with the local culture, which is very relevant in Florence, as the topics were all delivered through the narration of Dante's Divine Comedy.
Read the full Impact Story or watch the video to discover more in detail this successful Congress:
 2nd Silver Prize, Category Convention – 102° Lions Clubs International Convention
Lions Clubs International yearly organizes a world convention, including. This edition, celebrated in Milan, was record-breaking with 25.000+ delegates, 20 event days and a colourful parade with 15.000 people marching along the narrow streets in the city centre.
Read the Impact Story or Watch the video of Lions Convention:
 "The Eventex Awards represent a showcase of the best practices and innovative solutions in the live meeting and communication industry and it is really important for us and our teams to receive this recognition today. This is a confirmation of our steady commitment in crafting the perfect experience for our clients with innovative solutions", says Patrizia Semprebene Buongiorno, Vice President AIM Group International. 
Congratulations to the clients and all the AIM Group Teams involved!