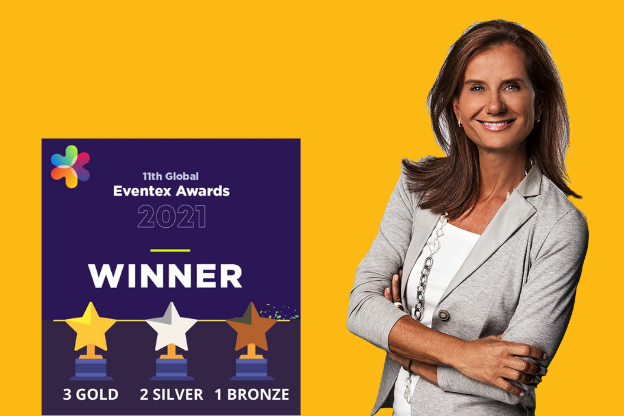 18-05-2021
Eventex Awards: remarkable recognition for an extraordinary year
The six Eventex awards received by AIM recognized the outstanding work we have accomplished this year. Each winning project represents an innovation and response to clients' needs in a challenging context. They give us the impetus to continue in this direction in the future.
By Patrizia Semprebene Buongiorno, vice president AIM Group International
We learned of the victory of six prizes at the Eventex Awards, including three golds, two silvers and one bronze, with immense joy and pride. Feelings that I would like to share with each of you.
The ability to create effective and original solutions, to interpret clients' needs, to adapt with flexibly and problem solving, to anticipate trends whilst always remaining at the forefront of the industry, has been recognized several times in the past. But this time the recognition for creative, innovative, successful projects – such as Traveling with ICare, FIMP House, Virtual SIR Run and our Virtual Christmas Party – fills us with even greater satisfaction.
This year was in fact very hard for all of us. We were faced with enormous challenges, to be solved in a very short time frame. We were forced to leverage all the experience and skills that we accumulated to deal with an unprecedented crisis.
We had to forget every security, every habit, to launch ourselves on virgin territory and experiment or develop new solutions, which could guarantee the quality and reliability that we have achieved over the years. We had to review the way we work and collaborate remotely. We had to review the plans several times, starting over without being discouraged. We had to support clients who were often confused and undecided, guide them in their choices and ensure that they reached their goals.
These awards were dedicated to innovative, original and effective projects. They demonstrate that we have done well, that we have been reactive, proactive, that we performed an excellent service, despite the very difficult context.
This confirmation of the irreplaceable value of our role as event organizer must fill us with pride on the one hand and give us confidence, pushing us to continue to give our best on the other.
The knowledge capital that we have accumulated in a short time, in the realization of virtual or hybrid projects, is something that we will carry with us even when we will return to organize in-person events. The flexibility in the organization and the ability to react will still serve us in the evolving situation. The excellent reputation we have earned on the market will allow us to reap the benefits, as has already being happening in recent months, with a pipeline of very interesting future contracted events.
I would like to thank all the teams involved. Without their ingenuity and hard work, these winning projects would not have been possible. This recognition invites all of us to keep up the good spirit and look to the future with determination and commitment. The same ones that have allowed us to navigate troubled waters and overcome the storm so far.