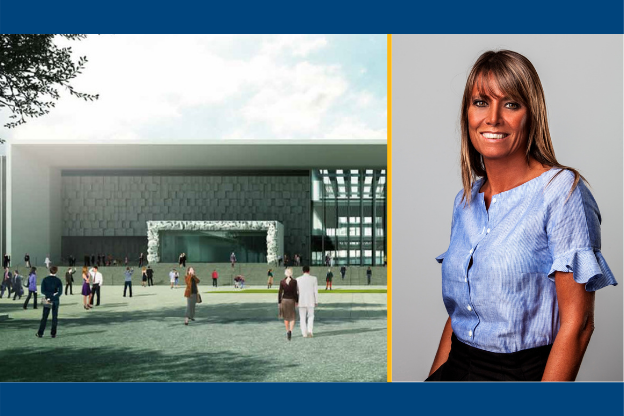 07-06-2021
Fiera di Padova entrusts AIM Group International with the communication campaign of the new Congress Centre
From the brand identity to the website and social media, AIM Group will manage the presentation of the new location and its positioning on the market.
Fiera di Padova has entrusted AIM Group International with the communication project for the launch of its new congress centre which will be inaugurated in the coming months.
The construction of a new congress centre in Padua is part of the evolution of the exhibition centre as an "innovation hub" with different advanced functions: exhibitions, events, scientific and university research, technology transfer, innovative start-up incubation. The hub will act as an open space that facilitates the development of projects and frees up energies.
Designed by the Japanese architect Kengo Kuma as a multifunctional and modular space, the congress centre will have two main meeting rooms, with capacity for 1,600 and 1,100 people respectively; five breakout rooms that can be divided into two independent areas; a modern press room; a restaurant with a terrace and a bistro.
"In 2021 we commemorate the centenary of the Padua exhibition center, which is preparing itself to face new challenges and look to the future with the same vision and innovative thinking that made it the first stable Italian trade fair a hundred years ago" declares Luca Veronesi, General Manager of Padova Hall, the company that manages Fiera di Padova. "The new congress centre will be at the heart of this transformation: an ambitious project, strongly desired by the city institutions, which is part of the wider objective to make the entire district a driver of innovation, a highly attractive space and a reference point for the national and international meetings industry".
AIM Group, a leader in the events market for over 60 years, will support Fiera di Padova in the communication activities related to the launch of the new location, with particular attention to the branding strategy, the development of the creative communications concept and the new brand identity (logo and corporate identity; the architecture of the website, its user experience and user interface; newsletters; social media strategy, etc.).
"We are really happy to collaborate with Fiera di Padova on a project that contributes to expanding the Italian offer for the Meeting Industry. Thanks also to this new offering, our country is increasingly aligned with the best international standards" declares Flaminia Roberti, Global Sales Director of AIM Group International. "Working on the launch of the new Paduan exhibition centre, which is extremely promising and innovative, is truly stimulating and our desire is to join the skills of AIM Group and our specialized company, AIM Communication, to deliver a truly noteworthy identity and profile as an attractive innovative space on the national and international market".