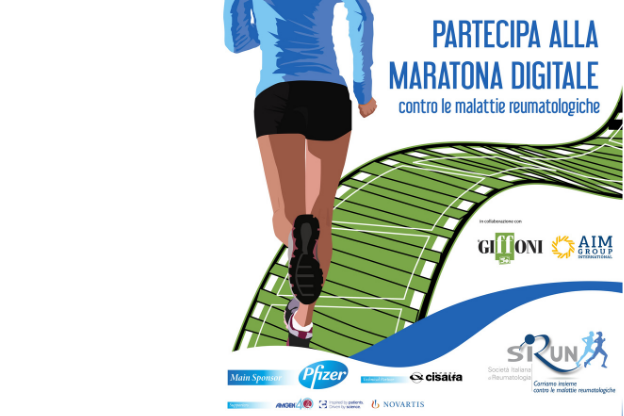 28-10-2020
Even a marathon can go digital
To raise awareness of rheumatic diseases, we created an annual run-digital event. This is a typical example of one of our "real-time" solutions created to respond to current restrictions.
"Creativity, resilience and flexibility are essential during the pandemic, especially for event organisers" remarked Rosangela Quieti, Managing Director of the Congress Division of AIM Group International. "The current restrictions on mass gatherings and social distancing measures are pushing us to be more creative and courageous, with brand-new projects which often break the rules and are revealing to us new ways to conceive traditional events".
This was the case for the SIR Run: a virtual marathon held throughout Italy. It was designed by our team for the Italian Society of Rheumatology (SIR) to raise awareness about rheumatic diseases among the public.
"Last year AIM Group organized the first SIR Run, during the annual congress of the scientific society" explains Fabrizio Rizzi, key account manager of AIM Group. "Sports events are much debated as potential public health risks, but they are still a major part of social life and for many people viewed as an indispensable part of the year. With current constraints, we tried to find an alternative and innovative solution combining  a safe sporting event with a communications campaign aimed at promoting a culture of well-being and awareness about rheumatic diseases. The idea to organize a hybrid marathon was born".
The participants ran individually in their own city and made short videos with their mobile phone, explaining who they are, why they love to run, their preferred place to run and their favourite place in their city. The selected videos were used to produce a short film about the run and the beauty of Italy. The film will be presented during the 57th SIR National Congress (25-28 November 2020).
"Over the last few months, we have been creating a series of first-time projects, which are innovations on our usual practices. It is clear that going digital it is not only obligatory  but can also mean an opportunity to reach new audiences and targets. We are experimenting,  pivoting to new formats and events and expect that they will become unique features for our association and corporate clients in the future" explains Rosangela Quieti.
Speakers are becoming more used to make video presentations and interacting on web platforms; sponsors are seeing the benefits of the different channels of communication; participants are attracted to the easy access and on-demand availability. Event professionals are enriching their expertise. "We prefer to see this difficult and challenging period as a training ground and a new position from where we can re-build the meetings and events space of the future" concludes Rosangela.
You can discover more examples of how to create innovative sponsorship opportunities, congress planning and participant engagement on the AIM GROUP Blog Roll.
In conclusion, see the promo spot to encourage participation in the Run here below: