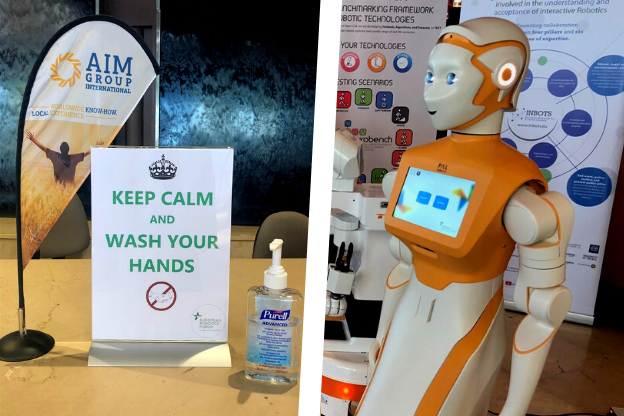 05-03-2020
European Robotics Forum: safe events can happen!
The Trade Fair and Congress Centre of Malaga (FYCMA) has just hosted the European Robotics Forum 2020 'Future Robotics: Unlocking Human Potential' and the euRobotics Members General Assembly. Attracting around 800 entrepreneurs and experts, this three-day event (03-05 March, + general assembly on the 2nd) is the largest and most influential of the robotics and artificial intelligence community in Europe. With more than 120 hours of seminars, presentations and discussions to choose from, the agenda is designed to educate, inform and inspire. This year's forum boasts also a major exhibition showcasing the most advanced prototypes, products and services of the EU Horizon 2020 research programme.
The European Robotics Forum 2020 is organised by euRobotics under SPARC, the public-private partnership between the European Commission and euRobotics to maintain and extend Europe's leadership in civilian robotics. AIM Group was in charge of its organisation was in charge of its organization by taking care of the entire registration process for the third time and the Vienna Office team had to face a particular challenge: organising the event when the coronavirus outbreak was affecting Europe and the meetings industry.
The Coronavirus outbreak is, fo sure, a big concern, which everybody takes seriously. So in order to guarantee a smooth realisation of the forum, specific precautionary measures were taken and communicated and the congress was celebrated as planned. The Coronavirus Policy included:
A 'No-Handshake-Policy' in place, clearly communicated to participants;
The venue provided medical assistance onsite to check temperatures upon entering the building and to advise on any health concerns;
Hand sanitizers were available throughout the venue
Health information signs have been put up onsite.
This event is a positive example, that we hope to repeat, of how it can be possibile to go ahead as planned in this challenging period.