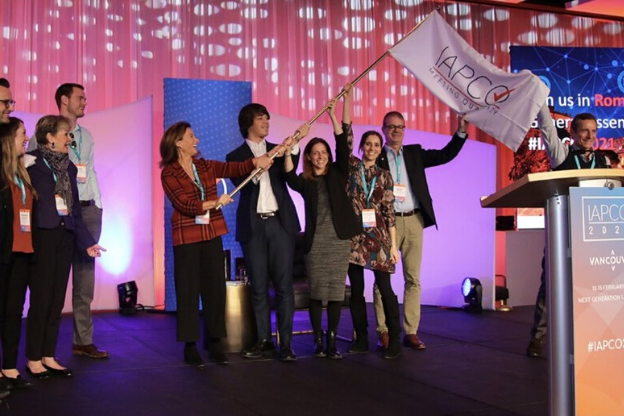 19-02-2020
The AIM Team at IAPCO2020 Annual Meeting in Vancouver
Exploring the Strategies of Tomorrow, while keeping our eyes on Today's Challenges, was one of the main goals of the IAPCO 2020 Annual Meeting. Not only was the goal reached, but the experience delegates had in Vancouver as the host destination, was truly outstanding!
The rich program with exceptional speakers also inspired our team both from a professional and a personal level. Topics such as: elevating customer service, boosting leadership skills, right through to asking the right kind of questions and learning how to thrive in business life, really had an impact on us.
On top of that, the event was made exceptional by two memorable moments:
Monica Freire, Director Congress Department at AIM Portugal, was re-elected for another 2-year term to the IAPCO Council. This followed 2 successful years on the Council. Her re-election was an outstanding recognition of her commitment to managing the IAPCO Connectors and Ambassadors Groups, which were praised by the IAPCO President. Monica, delighted to be re-elected for another term, remarked: "Being an IAPCO Council Member has been a special journey of personal and professional growth. Having the opportunity to contribute to the IAPCO family and represent this community, while receiving continuous recognition from peers has been a remarkable experience for me and for my fellow Council Members. IAPCO is about acknowledging and supporting all PCOs with high quality standards through education and networking. This re-election is particularly exciting for us as the next 2 years will mean we can consolidate the projects we have implemented amongst the membership and the PCO industry, engaging our members at all levels and growing our international profile."
For the very first time, the IAPCO Driving Excellence Hero Award recognised a team member who has gone above and beyond their duty that year, showing an aptitude for advancement and for making significant contributions beyond their position in their own company. The award, supported by the IAPCO Destination Partners, was given to Giulia Ineke Sarri, our Marketing & Communication Specialist! Giulia remarked: "I'm truly honoured to receive this recognition! I am of course delighted with the prize itself, which values my everyday efforts and commitment, but the prize is also indicative of the kind of sharing and caring that IAPCO provides as an Association!".
The next Annual IAPCO Meeting will be held in Rome, between 12-15 February 2021 and will be organised by the three Italian PCOs: AIM Group International, EGA Worldwide and OIC Group with support from the Convention Bureau Roma e Lazio. Being in Vancouver meant that our Rome team received some pertinent insights into organising next year's meeting.
The official flag handover was made at the end of the meeting, the central theme of the 2021 edition is: "There's no Future, without History". The next Meeting will underline how important it is for PCOs to value their past to better interpret their future evolution.
See you in Rome for #IAPCO2021!