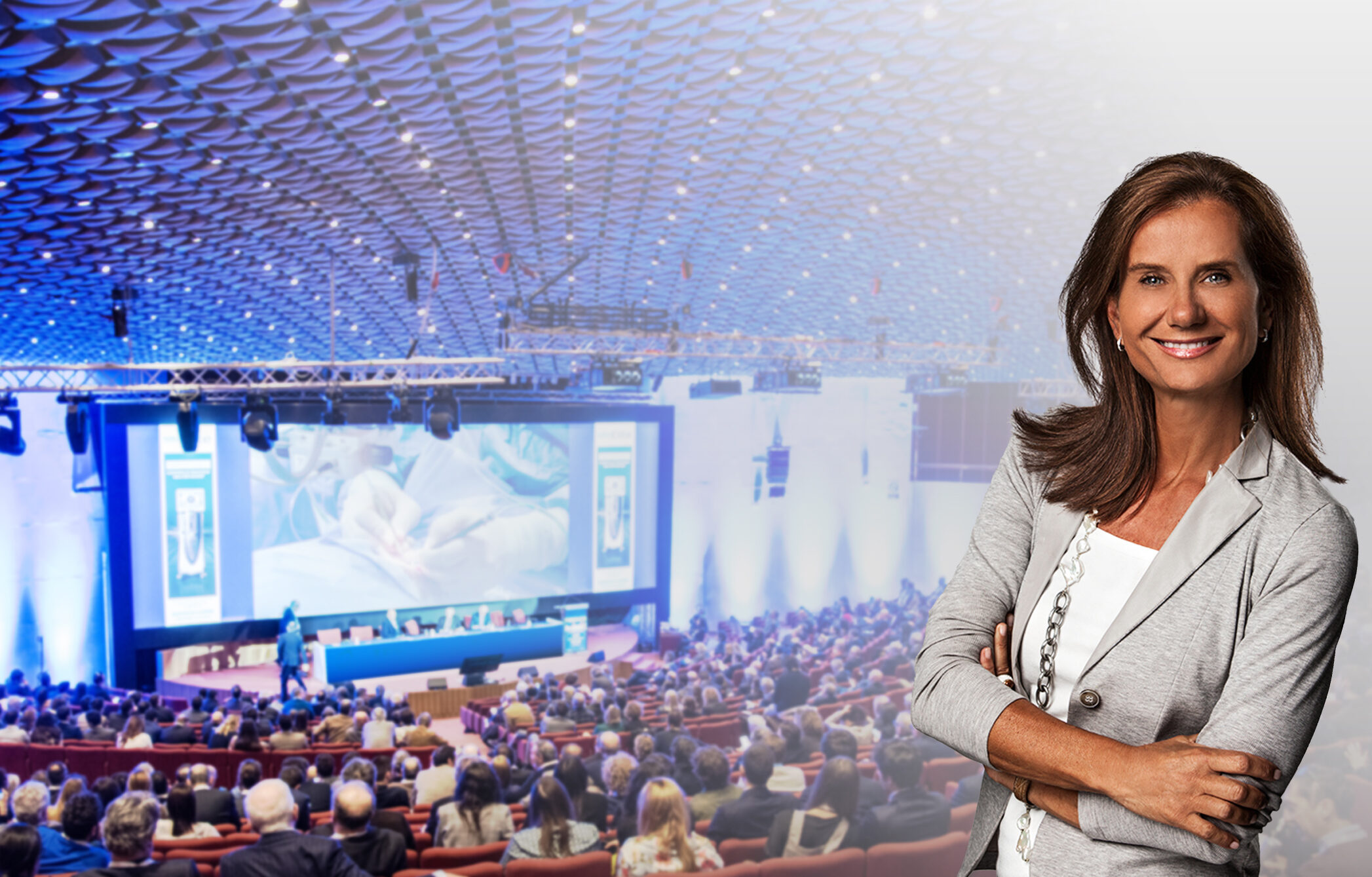 29-03-2023
DIGITALLY FRIENDLY, GREEN AND HUMAN-CENTRIC: THE EVENT IDENTIKIT FROM AIM GROUP
How has the role of the event organizer changed and how have companies in the sector responded to the changing technological environment of recent years? How best can we promote innovation and respond effectively to evolving client needs?
We speak with Patrizia Semprebene Buongiorno, Vice President of AIM Group International, who has over 30 years' industry experience and is a respected teacher and international speaker.
The events market is currently resuming its activities, what has changed and what has been learned in recent years?
The meeting industry is now often referred to as the sharing industry, emphasising that the fundamental benefit it offers is the sharing of experiences, knowledge and information that can transform the personal and professional lives of participants. This value has become even more apparent during the period of isolation caused by the pandemic. It's therefore true to say that the crisis has highlighted the importance of our mission and has helped to emphasise its value to institutions, clients, and stakeholders.
We're currently experiencing recovering demand, with delegates' strong desire to return to in-person events meaning that many of the 2,500 events organized by AIM Group in 2022 recorded higher numbers than in the past.
Creating engaging and appealing events for online participants as well as onsite delegates is perhaps the most difficult challenge for event organizers, who have always been experts in face-to-face interaction. How are you responding to this need?
Recent years have taught us the vital importance of flexibility and creativity; the need to break the mould with new solutions and to involve clients and participants in new means of communication, before, during, and after the event.  As well as meeting basic organisational needs, technology and digital platforms can enhance the overall event experience by expanding audience outreach and extending the event's lifespan. It is therefore important to create and engage online communities (corporates, associations, etc.) with multichannel strategies.
To be more efficient and better able to customize projects, we decided to develop a proprietary platform, the AIM Phygital Platform, to host collaborative online meetings and events for up to 10,000 people. This tool is helping us to create innovative formats, increase audience numbers and outreach, extend event lifespan, and promote participation and engagement, creating interactive communities before, during, and after the event. The various hybrid editions of the ESH (European Meeting of Hypertension) congress offer a good example of what can be done, as does the work we have done to enhance user experience on the Salone del Mobile Milano website.
Salone del Mobile Milano is a very prestigious but unusual client for a PCO; how did the collaboration come about and how did you support them?
Our specialist digital communication agency, AIM Communication, supported the digital transformation of Salone del Mobile Milano, the leading international fair for the furniture and design sector, using AIM's Phygital Platform to enrich the new website www.salonemilano.it for the 2021, 2022, and 2023 editions.
Since 2021, the Salone has made available an advanced digital platform, enriched year-round with updated news, content, and an online product and brand catalogue. The AIM Phygital Platform facilitated the organisation of virtual events on the Salone website: both interactive events, incorporating the potential to react, comment and ask questions via live chat, and collaborative live virtual meetings with video calls and content sharing.
In addition, we broadcast the press conferences presenting the 2021,2022 and 2023 editions live online, from a TV studio in 2021 and from a theatre in 2022 and 2023, thereby transforming these into large hybrid events accessible to a broad international audience.
Another very important challenge that organizers face is making events and communication projects increasingly sustainable from an environmental and social perspective. What are you doing to address this?
This is undoubtedly a complex and difficult process for an industry like ours which, by its nature involves travel and has an inevitable environmental impact. That's why we have signed the Net Zero Carbon Events protocol, a joint document that commits the events industry to achieve the objectives set out in the Paris Climate Agreement, and why we participate in developing common methodologies to measure the sector's direct, indirect, and supply chain greenhouse gas emissions, and in building a roadmap to drive the entire sector towards net zero by 2050.
Furthermore, as a Group, we are committed to obtaining ISO 20121 sustainability certification. The design of our events and projects is underpinned by a commitment to making them more sustainable and to leaving a positive legacy for the community and the environment. Recently, we received an FCE Award in the Sustainability category for the IPSEN Community DAY project, which was for the first time able to bring together different organisations, such as Legambiente, the Giffoni Film Festival, and the bio-pharmaceutical company Ipsen to involve employees in a concrete, engaging, and team-building activity: the cleaning of a beach in a protected area.  As well as collecting more than 200 kg of waste, participants reflected upon both their private and professional behaviour, their feedback concluding that commitment to change must be both universal and personal.
In the context of our earlier discussion about the continuous renewal of the sector, we can't ignore the fact that AIM Group International has recently launched a new brand identity, namely a new logo, a new website, and a new coordinated image. Why this change?
Continuous evolution has been in AIM Group's DNA since its foundation in 1960. Throughout our history as the longest established operational Italian PCO, we have changed our name, structure, and services several times. Last year, we felt it was time to communicate the dramatic recent changes to our business through a new brand identity, closer to our current personality.
Our new payoff, for example, Let's together! represents the way in which we work in close collaboration with our clients to create successful solutions and projects. The triangular shape of the new logo reflects the three fundamental pillars on which the Group's specialist businesses are currently based: Meet (Events), Engage (Communication), and Think (Consulting). The dedicated teams within each area increasingly interact and complement each other in a more structured way than in the past.  This enables us to provide the highest quality of support throughout the entire lifecycle of an event, from the design of scientific content (as an ECM Provider), through event promotion, branding and multi-channel and social communication activities, to the realization of in-person, hybrid, or digital formats.
Through AIM Group's participation in the Mentor Project of Federcongressieventi, you are engaged as a teacher and have direct contact with young people. What advice would you give to those who intend to build their careers in the sector?
Well, firstly I'd explain that, while the PCO profession used to be learned 'on the job', many courses are now available to prepare young people for the industry. This is important because the challenges we face are many and varied; our industry is constantly developing, and this requires adaptability and a willingness to acquire new skills. But this is also the beauty of our work: it's always new and always stimulating. Our mission is to bring people together, to create connections, and to find solutions that make events more effective.  My advice would therefore be to embrace your career with passion, to cultivate curiosity and to look out for ideas that you can steal from other markets and industries to bring something new to your work every day.