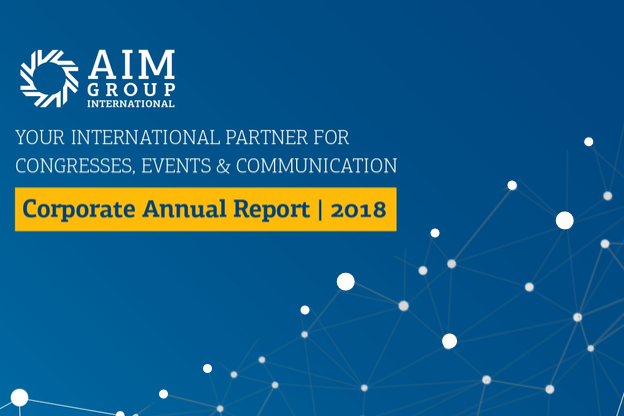 13-10-2019
2018: a year of steady growth
Increased EBITDA and overall turnover, diversification of the business, major events realised and acquired are among the flagship results achieved by AIM Group International in 2018.
"Thanks to the positive accomplishments realised in 2018, AIM Group is looking positively to our future" underlines Gianluca Buongiorno, President AIM Group International.
"Our new Business Plan is orienting us to be stronger, with an enhanced international profile and, most importantly, with a financially robust position".
2018 was marked by significant achievements in a number of areas including:
New business from both association and corporate clients, and overall client diversification of services.
Efficient organisation of an impressive number of congresses and events. 3.000 unique events and experiences were designed to include: the award-winning European Meeting on Hypertension, the SIAARTI Academy and the International Bar Association Welcome Party.
Financial consolidation: Turnover 98,974,000 euro, with a +13% of growth vs 2017, EBITDA 2,693,000 euro (recording a +28% increase compared to the 2017 EBITDA) and the overall turnover including those companies not fully owned by the Group surpassing 110 million euro.
Investments in communication –  the acquisition of the majority stake in VanGogh creative communication agency has enabled the Group to enlarge the range of services that we offer to our clients. Thus allowing us to provide a joined-up conference, communication and digital experience
The opening of a new office in Barcelona has meant a strengthened presence in the dynamic Spanish market.
Gianluca Scavo, CEO AIM Group International explains: "Our ambitious development path focuses on three main priorities: consolidation of our business portfolio; strategic acquisitions; and the opening of new offices in dynamic destinations. Finally, the value that we emphasize in our plan is growth coupled with high profitability."
"Quality and innovation will continue to be our main drivers over the years" adds Gianluca Buongiorno "Association and corporate clients are looking for more value and innovative ways to deliver events. It is a common challenge in the industry and we are confident that, thanks to our investments, expertise, long experience and staff professionalism, we will continue to further position AIM Group as a global leader in the meetings industry".
The complete Annual Report 2018 is available on the AIM Group website.