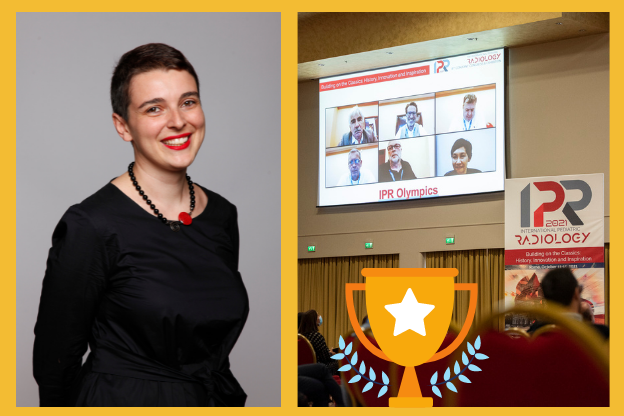 28-03-2022
AIM Group won the FCE Award for IPR Olympics
The FCE association members voted to recognise the IPR hybrid event and our Gaia Santoro was appointed in the new FCE Executive Board.
AIM Group International was recognized with the FCE Awards 2022 for the IPR Olympics.
The FCE AWARD is promoted by FedercongressiEventi (FCE), the Italian association of meeting industry, at its annual convention, celebrated 25-25 March in Treviso, and it is based on the votes from the FCE members.
The FCE Award 2022 gave recognition to the member who has reacted in the most innovative way to the changes and challenges occurred in the recent years by realising an event where technologies were exploited to support and encourage the active involvement of participants.
The IPR Olympics was a special feature of the 2021 edition of the International Congress of Pediatric Radiology (IPR) which helped connect North-American and European radiologists in a truly engaging way. To facilitate the collaboration and active engagement of both the online and onsite audiences, it was decided to organise a 'special' hybrid scientific session, the IPR Olympics, a competition about the most important and updated studies and findings in the sector involving all the speakers and delegates, both in person and connected remotely.
Read the full Impact Story about IPR Olympics
AIM Group is an active member of FCE and at the same FCE Convention Gaia Santoro (in the picture), head of Sponsorship Unit of AIM Group International, was elected in the new Executive Board of the association for a three-year term. Gaia 'takes over' this role from Marica Motta, Sales Operations Coordinator of AIM Group International, who has served as Board Member for the last five years.
Gaia Santoro is an expert event professional, collaborating with AIM Group since more than 10 years, with a track record of innovative, award-winning events, such as Travelling with ICare tour or SIAARTI Academy. She will focus on supporting event professionals to embrace innovation and find new ways and formats to involve all the stakeholders (associations, delegates, sponsors, destinations, venues) in win-win, collaborative projects.