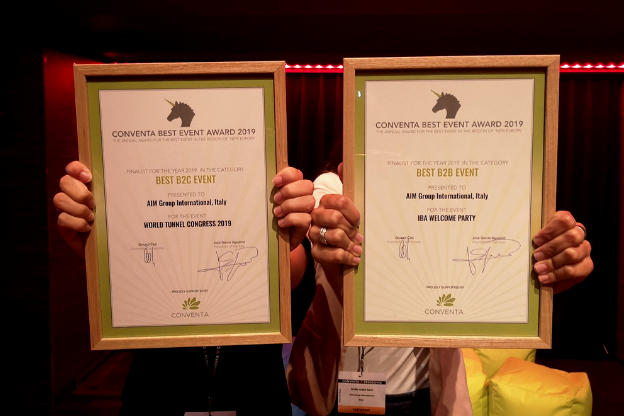 02-09-2019
AIM Group recorded a podium finish at Conventa Crossover Best Event Awards 2019
The Conventa Crossover Festival 2019 has come to an end in Ljubljana, Slovenia. The Festival of Events and Live Marketing, yearly organized in this tiny beautiful city, was full of insightful educational sessions, worldwide renowned senior event professionals and a conference format with authentic experiences, personal engagement and live interaction. Also it featured the thrilling pitch sessions of the shortlisted projects in the running for the 2019 Conventa Crossover Best Event Awards 2019.
All projects were mind-blowing ones, presented by passionate event professionals and enthusiastic people, but only one could be the final winner!
For the Best B2B Event Category, AIM Group finished as runner-up with the breath-taking Welcome Party designed for the International Bar Association at a 16th Century Villa on the hills surrounding Rome, competing against great corporations' events like Coca Cola and Philip Morris.
Watch the video of the IBA Welcome Party to make your mind fly through fairy worlds and enchanting dreams:
As Best B2C Event, AIM Group won the third prize with the incredible project organized for the World Tunnel Congress held in May 2019 in Naples, competing against the ever-winning project to fight against Ocean pollution sponsored by Adidas.
Watch the video of WTC 2019 to know more about our challenging and successful Congress:
All submitted entries were evaluated by a jury consisting of international experts from the field, like Patrick Delaney (Soolnua), Luca Favetta (PCMA), Ivo Franschnitz (Enited) or Angeles Moreno (MPI Europe), among others. This vote, considering elements of Creativity, Relevance, Innovation, Execution, Legacy, Results, Communication, Sustainability and Final Impression, counted 80% of the final evaluation, while the remaining 20% came out from the live voting of the audience at the Festival.
"We are extremely happy to be once again featured among the best event agencies in Europe with these prizes. This acknowledges the hard work of our teams, who always do their very best to raise the bar higher and go beyond!", so Rosangela Quieti, Managing Director Congress Division AIM Group International.
And now… up to new heights!