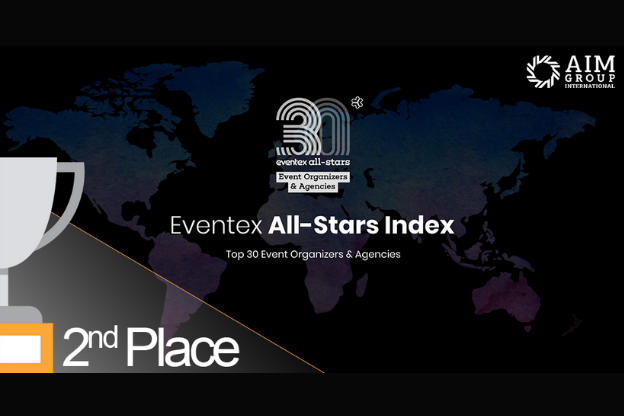 16-05-2019
AIM Group International ranked as 2nd Top All-Stars Event Organiser by Eventex Awards
Eventex Awards has just ranked AIM Group International the 2nd place among the top 30 event organisers and agencies from around the world in the Eventex All-Stars Index.
The ranking includes 30 companies and organizations that excelled the most in the past three years, taking into account the number of 1st, 2nd, and 3rd places over the last 3 editions of Eventex Awards.
The previous Top 20 All-Stars Index already ranked AIM Group among the best agencies, but in 2019 AIM Group moved from 9th to second position thanks to the four winning entries received at Eventex Awards 2019.
At the latest 9th Global Eventex Awards, in fact, AIM Group received four First Prizes: 1st Prize CSR Event for SIAARTI Academy, 1st Prize Educational Event for SIAARTI Academy, 1st Prize Medical Congress for ESH 2018, 1st Prize Gala for IBA Welcome Party.
"Achieving the second place is a stunning result and we are really enthusiastic that AIM Group is ranked as of one the best event organisers at global level" says Patrizia Semprebene Buongiorno, vice president of AIM Group International. "Competing for the excellence is our aim and we are glad to be recognised by this well-known industry award".
AIM Group has been competing, and winning, at the Eventex Awards since a long time. In 2014, AIM Group took over the People's Choice Category by winning 2nd and 3rd places for the World ATM Congress 2013 and the ESOT Vienna Congress 2013. In 2016, the silver for Best Event Agency. At the 2018 Edition of the Global Event Awards, 1st place Best Scientific Congress for Floretina2017 and 2nd place as Best Medical Congress for Floretina2017, Best Association Meeting, 2nd place for 2016 AIPPI World Congress.
Read the article to discover the award-winning projects at the last Eventex Awards.