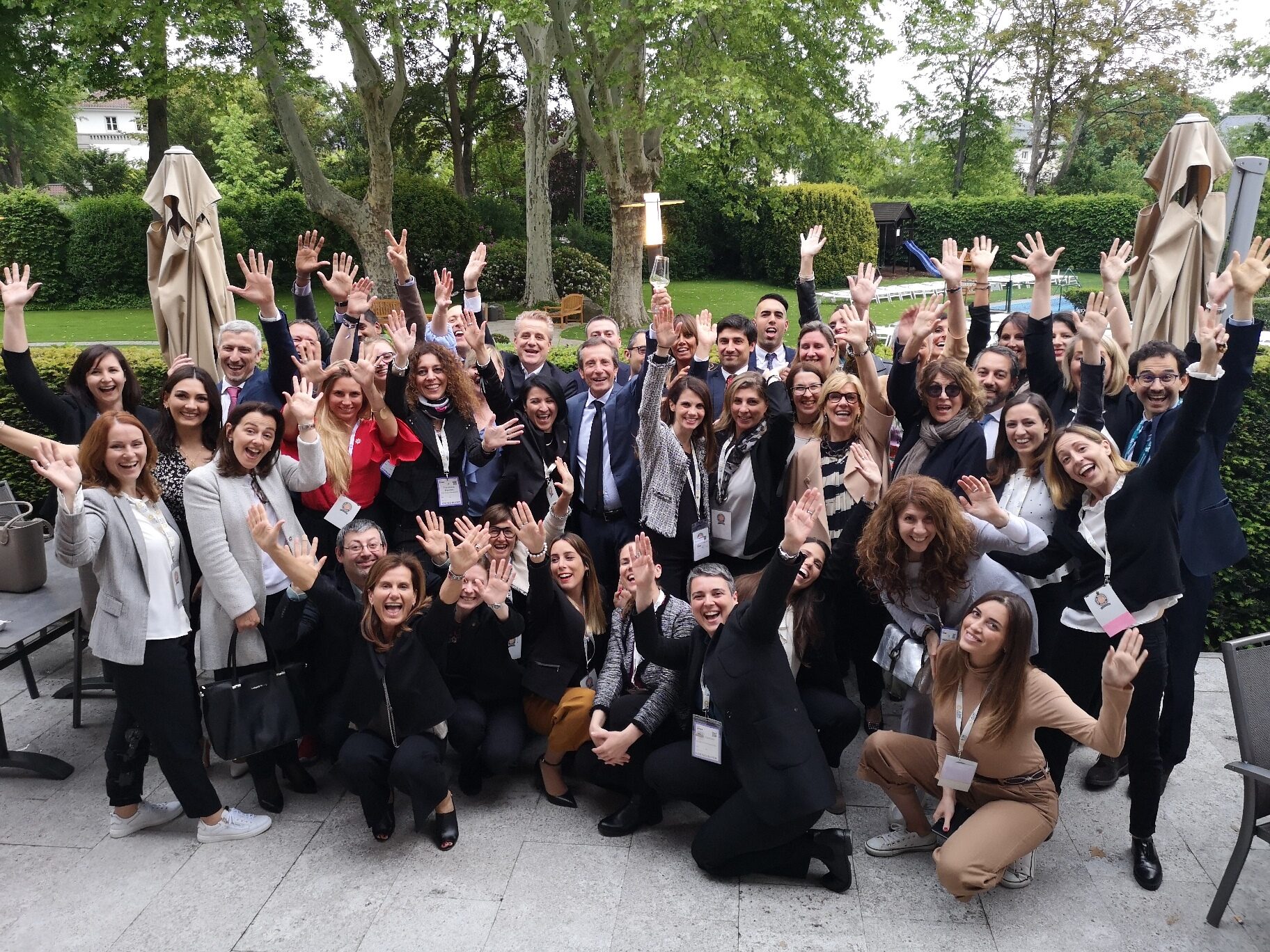 27-05-2019
IMEX Frankfurt confirmed as a reference appointment also for AIM Group
More the 50 AIM Group staff members attended the last edition of IMEX Frankfurt, just held from 21th to 23rd of May, a real reference moment for the event professionals and the global meeting industry. In fact, AIM Group has been involved playing different roles, which reflect the complexity of the event.
At the country stands of Austria, Italy, Hungary, Portugal and Spain, some representatives of AIM Group Offices of Vienna, Italy, Budapest, Lisbon, Barcelona and Madrid, were exhibitors and had the opportunity to meet the international buyers and present the local DMC and PCO offer. All the booths' guests was gifted with an eco-friendly reusable bottle, realised in accordance to the IMEX Exhibitors Sustainability Pledge, which recommends reducing plastics and waste.
A large group of event organisers coming from all the 17 AIM Group Offices attended the fair as hosted buyers and visitors, taking the chance to discover the latest offer of industry providers, from technologies to destinations, through pre-scheduled meetings and seminars.
As IAPCO member, the AIM Group delegation presented, along with Prague Convention Bureau and Prague Congress Center, the very first European IAPCO Edge Advanced Seminar, which AIM Group will organise in Prague 13-15 November 2019, and attended the IAPCO Get Together Party to networking with the other members. Also, at the fair AIM Group signed the final agreement as organising committee of IAPCO General Assembly 2021 which will be held in Rome.
As partner of INCON, a global partnership of trusted conference and association management companies, AIM Group joined the INCON on site program such as the announcement of the Digital Infrastructure Award's Winner and contributed to spread the awareness of the partnership.
The entire AIM Group delegation was invited by Dubai Business Events to attend a dedicated group presentation about the latest news and projects in the Emirates, where AIM Group has just opened a new office.
Some of the AIM Group event professionals contributed also to the educational program: Annalisa Ponchia, Director of Innovation & Customer Experience, moderated a discussion at the Association Day about "Event budget management and cost cutting"; Flaminia Roberti, Global Sales Director, participated in an AIPC Forum round table; Giulia Ineke Sarri, Marketing & Communication Specialist, held a speech about the digital marketing for events.
Finally, AIM Group took this occasion to organise an internal evening Get Together Party, during which the internal AIMazing Awards were attributed to the most effective projects in terms of Collaboration and Value Creation.
At IMEX Frankfurt three days full of meetings, events, seminars, networking, education, have rapidly passed by. See you at IMEX 2020!