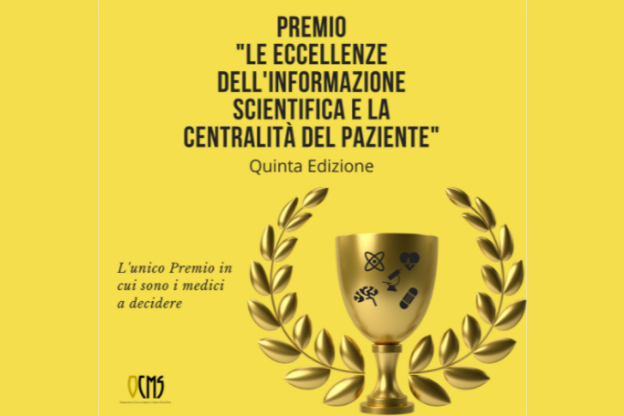 21-07-2021
AIM Education awarded the Excellence in Scientific Information and Patient Centrality Award
A large panel of doctors and healthcare professionals distinguished AIM Education and Alnylam Pharmaceuticals with an Award for "Excellence in Scientific Information and Patient Centrality 2021" in the Special Rare Diseases/Orphan Medicines Category.
This award is promoted by the Medical Scientific Communication Observatory (OCMS), under the patronage of the FNOMCeO (National Federation of Doctors), the SIMG (Italian General Medicine Society), Farmindustria (Italian association of pharmaceutical companies) and Cittadinanzattiva. The award recognises projects that demonstrate a tangible health benefit for citizens as well as affirming progress on the centrality of patients. The nominees are identified and promoted by the doctors and selected by an independent Jury as opposed to voluntary nominations.
AIM Education, a company specializing in education projects, CME accreditation and training events for healthcare professionals is part of AIM Group International. Their project "Screen & Care, HATTR amyloidosis: recognize it, to cure it" was brought to fruition through unconditioned support from Alnylam Pharmaceuticals. It is a training on the job project involving specialists dealing with hereditary transthyretin amyloidosis (hATTR). A multidisciplinary team, led by an expert doctor, collaborated to apply a clear and useful diagnostic path in the Scientific Centers and to facilitate diagnosis and timely treatment which are very important elements for optimizing patient management. By providing an interdisciplinary approach within the scientific centers, the working group has developed a collaborative network and a flowchart of the patients' journey.
"As specialised providers of education for healthcare professionals, we have developed a particular focus on rare diseases and patient centrality for several years now. We support pharmaceutical companies in their mission to enhance treatment through effective education on procedures and approaches" says Alessandro Scattolin, Managing Director AIM Education. "We are really proud of this award because it is really authoritative as its origins are the doctors themselves who identify and nominate the projects that they recognise are the most valuable".
AIM Education already won this award in 2020, for the MPS Multiconnection project, which was developed with unconditioned support from Sanofi Genzyme. The project involved awareness raising training on mucopolysaccharidosis (MPS) and its "warning signs" in Italian hospitals. This training on the job involved meetings with a multidisciplinary team, led by an expert doctor of MPS, at the hospital centers. The results of the project were promising thanks to an effective education format, with a substantial increase in the knowledge of MPS among various specialists. It also involved the creation of a multidisciplinary team within the centers in order to conduct a 360-degree patient assessment, and the creation of a network among the reference centers for rare diseases.