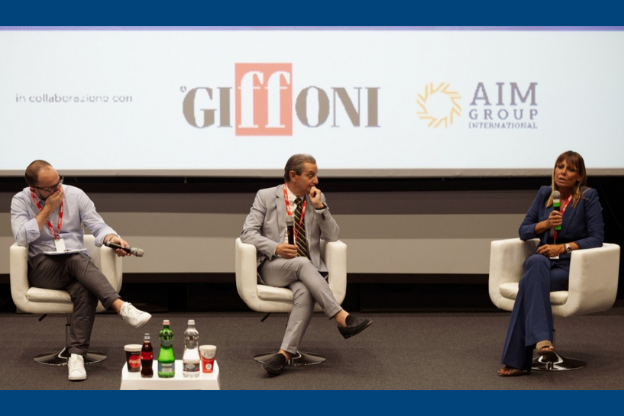 27-07-2021
SIR and Giffoni Film Festival, in collaboration with AIM Group, engage young people about rheumatological diseases
After the success of the SIR Run in 2020, the collaboration between SIR, AIM Group and the Giffoni Film Festival continues with the launch of a new audio-visual project.
The Italian Society of Rheumatology (SIR) and Giffoni Film Festival, in collaboration with AIM Group International, launched a new audio-visual project aimed at raising awareness among young people of rheumatological diseases. After the success of the award winning 2020 SIR Run, a virtual marathon that young people were asked to run and tell through a video, in 2021 a new initiative has been launched: a call to action where 10 young talented aspiring screenwriters (16 – 25 years old), under the supervision of the Giffoni team, will develop a film script centred on rheumatological diseases.
The Giffoni experts have already selected these 10 profiles and later this week they will present this project during the Giffoni Film Festival, where an additional screenwriter will be recruited from those attending the festival Masterclass. In September, the group of young aspiring screenwriters will then be invited to a training course to create a short film script.
The short film will be previewed during the SIR National Congress at the end of November 2021 and then screened at the Giffoni Film Festival in 2022, where the young screen writers will also have the opportunity to share the project and talk about their experience.
The project was made possible through the support from the founding sponsors: Amgen and Novartis. Other companies will follow in the near future.
This successful campaign intends to involve young people in a language of interest to them to clarify rheumatological diseases and the transversal incidence on the various age groups, and to increase awareness among families by providing the correct medical information but also to shine a light on the psychological and social impact of this chronic disease.
"The collaboration between the scientific society and the film festival for children and young people started in 2020. It was an exciting and courageous approach which saw high participation levels at the digital marathon and succeeded to involve young people to reflect and debate on issues, such as illness, which can often be unpleasant. We are happy that the project continues and has been enriched this year by combining support for young talent in health communication", said Rosangela Quieti, Managing Director of the Congress Division AIM Group International.