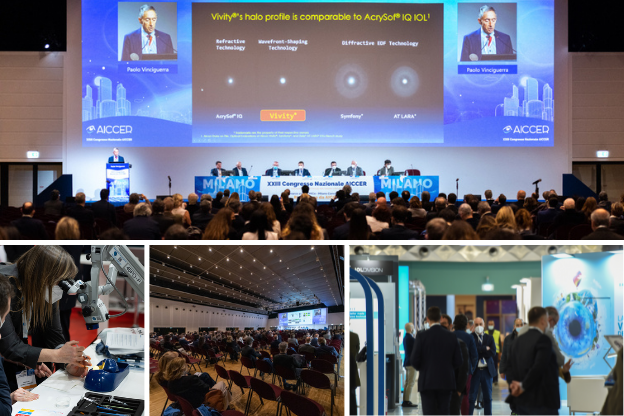 23-03-2022
AICCER 2022 a great in person come back
After an absence of two years, 2.000 ophthalmologist surgeons met in person in Milan with equally strong support from industry representatives  
Finally, members of the Italian Association of Cataract and Refractive Surgery (AICCER) were reunited for an in-person meeting which was held in Milan from 17 to 19 March. This followed two years of virtual sessions: 3 webinars were organized at the last minute in 2020 and there was a full virtual congress in 2021.
The occasion was eagerly awaited as demonstrated by the recorded data: almost 2,000 registered participants, including 250+ speakers and 550+ sponsor representatives. This was an increase of over 20% compared to the pre-pandemic editions.
The three-day congress took place as full in-person at the MiCo Convention Centre with a limited number of speakers connecting remotely. It included an exhibition area of ??over 1,000 square meters where the 47 sponsors were able to meet the scientific community, present their new products and feature technological innovations. The sponsors chose to have more space for the exhibition area, with greater investments than in the pre-pandemic period, because after two years of virtual meetings, there was a strong desire to show their progress and to support the important Association.
Among the many training sessions, the so-called hands-on area was really well developed, with wet-labs for surgical simulations on synthetic eyes; some practical courses repeated several times a day allowed more people to participate and 6 live surgery sessions broadcast from a hospital (which had to be moved from one hospital to another in less than 20 days before the congress).
In addition, an international session was proposed for the first time in English with international speakers, in partnership with Euro Covcat, a group that brings together international eye surgeons established during covid to encourage exchange between colleagues despite the distancing.
Finally, in consideration of what is happening in Ukraine, AICCER donated 10,000 euros to purchase ophthalmic material to be sent to Ukrainian hospitals.