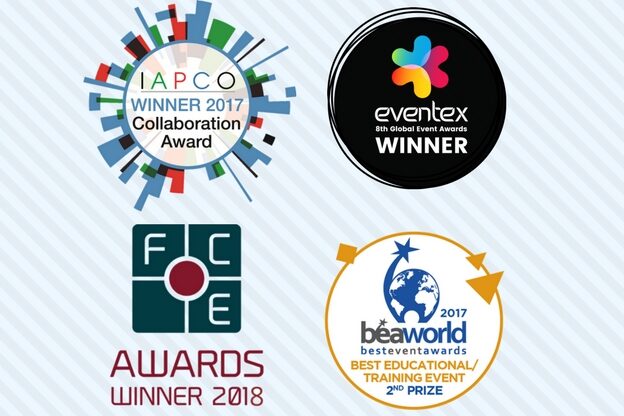 26-03-2018
A Year of Awards
AIM Group received several awards in the last months due to the realisation of innovative and effective projects. The keys to success are a strategic approach and acting as if we were the client.
More than 350 talented and motivated people work at AIM Group and they organise about 3,000 events a year. Much effort is spent to design events with significant added value at multiple levels.
"Our role is to support our clients to achieve their objectives and to make contributions that elevate the value of the events organised" says Patrizia Semprebene Buongiorno, vice president of AIM Group International. "We do that through advanced, effective and high-quality projects, made possible by an in-depth knowledge of their needs and a strategic consultant approach".
As a result, recognition has been granted to AIM Group during the last months. Here are the awards:
Floretina2017: Eventex Awards – Best Scientific Congress – 1st Prize and Best Medical Congress – 2nd Prize. At this second edition of the world congress focusing on medical and surgical retina diseases held in Florence, delegates' engagement was boosted through Live Surgery Sessions with 3D technology and a larger scientific product. The event exceeded expectations and registrations literally doubled to 2.500 participants.
2016 AIPPI World Congress: Eventex Awards – Best Association Meeting – 2nd Prize. Held in Milan, this global conference attracted more than 2.000 participants and engaged them by the creative use of iconic Italian brands as well as unforgettable social programs and experiences.
AIM Group International has been ranked as Top 20 All-Star Agencies from around the world in the Eventex Awards All-Stars Index.
SIAARTI Academy: the FCE Excellence Awards 2018, given by the Italian meeting industry's association, in the category Organisation of congresses and events, and the FCE Member Choice Award, granted by the popular vote of the association members. SIAARTI Academy, which stands out for the highly-innovative education medical training and its legacy project, was also awarded, in 2017, the BEA World Award  and IAPCO Collaboration Award. Discover why this event received 4 awards in its Impact Story.
A recognition for joining Food for Good, the project promoted by Federcongressi&eventi to fight food waste by recovering food that is not consumed by events. (See also the Events Legacy article)
Prague CB Ambassadors Awards –  Congress of The Year 2017: 85th EAS Congress – European Atherosclerosis Society. "The event with a long history came to the Central and Eastern Europe for the first time ever. Furthermore, the Prague edition registered a record-breaking attendance of 2,500 delegates".
Prague CB Ambassadors Awards – Corporate Event of The Year 2017: Motorola Solutions for the Enhancing Vision event, outstanding "for the unique fusion of the cutting-edge technologies set in a historical event venue".
A winning path that provides us with models for the future!