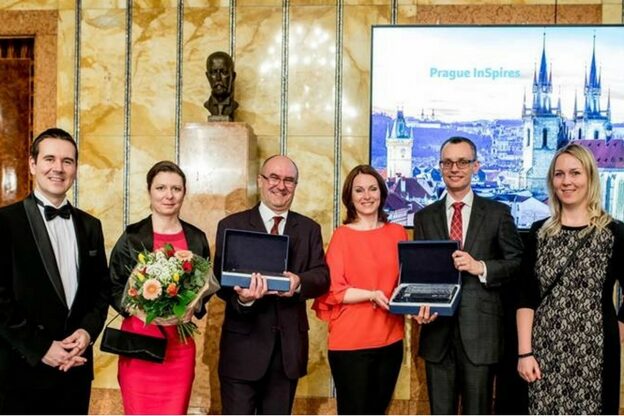 30-03-2018
Two new Awards for AIM Groups Prague Office
At the recent Prague CB Ambassadors Awards the Czech AIM Group office received two recognitions for outstanding events both in medical congress sector and corporate event.
Congress of The Year 2017 and Corporate Event of The Year 2017: those are the two awards, just received from the AIM Group International Prague Office at Prague Convention Bureau Ambassadors Awards, the most important national recognition in Czech Republic dedicated to the meeting industry operators.
Congress of The Year 2017. AIM Group, in collaboration with the Czech Professor Doctor Michal Vrablík, organised in 2017 in Prague the 85th EAS Congress – European Atherosclerosis Society. "The event with a long history came to the Central and Eastern Europe for the first time ever. Furthermore, the Prague edition registered a record-breaking attendance of 2,500 delegates" the awards motivations report. Held at the Prague Congress Centre in April, the congress was characterised in particular by a special 2-days session dedicated to Science at a Glance presentations (interactive discussion of the best abstracts with the authors) and effective social events, such us, for example, two sponsored sessions held in an open space set like an arena called The Hub Session.
Corporate Event of The Year 2017. Motorola Solutions – Enhancing Vision event, outstanding "for the unique fusion of the cutting-edge technologies set in a historical event venue" as said in the awards motivations. Prague was able to welcome 400 participants – leaders of the EMEA channel community together with Motorola leaders and experts – for an interactive event where they experienced both the new Motorola technologies and the beauty of the city. The blending of advanced technologies with the elegance of the Zofin Palace, one of the most significant architectural jewels of Prague, was breath-taking.