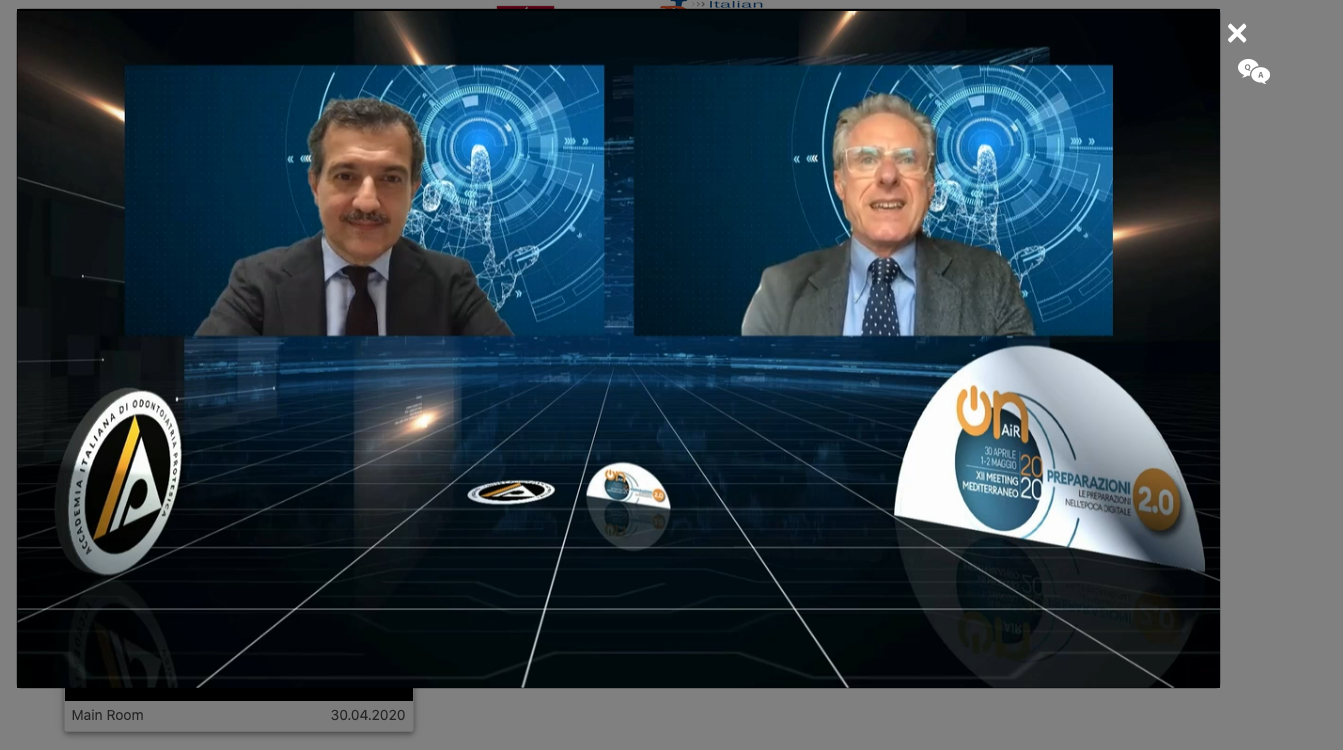 03-06-2020
A scientific congress transformed into a virtual, successful experience
Due to the Covid-19 Crisis, the Italian Academy of Prosthetic Dentistry (AIOP)  had to re-organise the annual two-day Mediterranean Meeting originally scheduled to take place in the congress center in Riccione.
To meet this challenge, it was necessary to monitor the crisis development and the national and international rules that apply to mass gatherings and evaluate how to re-plan the event, whether to postpone, cancel or move it into a digital environment, with an in-depth analysis of the pros, cons, costs and required actions.
After a careful evaluation of all the likely scenarios, pros and cons, AIOP together with AIM Group decided not to cancel or postpone but to transform the congress into a virtual meeting. AIOP took the challenge and embarked on the ambitious plan to transform it a very short timeframe. In just a few weeks, the congress was transformed into a fully virtual event which took place online from 30th April to 2nd May. AIOP was the first Italian scientific society to experiment with this kind of solution.
"We had to work very hard to provide the technical solutions, involve sponsors, train the speakers and inform the expected participants, but the client was really enthusiastic and committed as we were, so we finally succeeded in realising a seamless event which was a real success" says Lavinia Ricci, business manager Congress Dept. AIM Group International.
The digital event was developed on the customised "AIOP On Air" virtual platform, which offered effective solutions for a 360-degree congress experience, such as:
Active online audience engagement: Q&A forums allowed participants to interact with speakers and exchange views with other participants.
The virtual television studio included a realistic and immersive layout.
A well-structured virtual area dedicated to sponsors offered the possibility of following thematic itineraries, consulting corporate videos, documents and presentations. There was also a feature where participants could attend one-to-one or even one-to-many meetings with exhibitors.
All the content is available on demand for one year, searchable through personalised thematic journeys.
Multiple education experiences. Education sessions were broadcast live not only during the three-day event but also on two more half-day webinars.
Social interaction All the board, the faculty and many attendees had the pleasure to share some social moments and participated in online happy hours, enjoying informal moments.
The online format provided AIOP with many benefits:
Member engagement. AIOP was able to deliver the education to its community, avoiding cancellation or longer postponement.
Larger attendance. There were 1.850 registered attendees which was a +130% increase on the previous edition. The association attracted new audiences, who would not have been able to attend the physical meeting.
Effective learning experience. Attendees could interact and participate in the conversation.
New sponsorship opportunities. Despite the lockdown, companies were able to disseminate their communication materials, organise networking and virtually meet delegates.
Extended Lifespan. The event duration was longer with sessions being spread over several days. The on-demand archive also extends the virtual lifespan of the content for one year.
As reported in the customer survey 97% liked the new event format and 94.5% will take part in another virtual congress in the future.
The comments received on AIOP's social media (LinkedIn, FB and IG) were all enthusiastic and very positive.
"It is better than a real event!"
"I am convinced that this innovative event, whose origin is undoubtedly caused by the Covid-19 emergency, will transform a challenge into an opportunity, opening new horizons even for the future when the emergency is over", explains Carlo Poggio, President of AIOP.
"Despite the Board, the speakers and the staff being so far from each other, there was a such a beautiful atmosphere, such a close empathy that is hard to explain in words" adds Lavinia.
"We are delighted that AIOP decided to undertake this innovative path together with us, rescheduling the entire event in a few weeks – explains Rosangela Quieti, managing director of the Congress Department, AIM Group International -. As event professionals, we know that in this crisis situation, we must put our in-depth knowledge of the needs of scientific societies and companies and of the learning processes to create effective virtual events. Technology allows us to create educational and experiential paths user-friendly, engaging and interactive sessions that can keep attention high and facilitate the knowledge exchange typical of live events".
Watch the video about AIOP on Air virtual congress.