SIAARTI Academy
A new training format for future emergency doctors in the Island of Lampedusa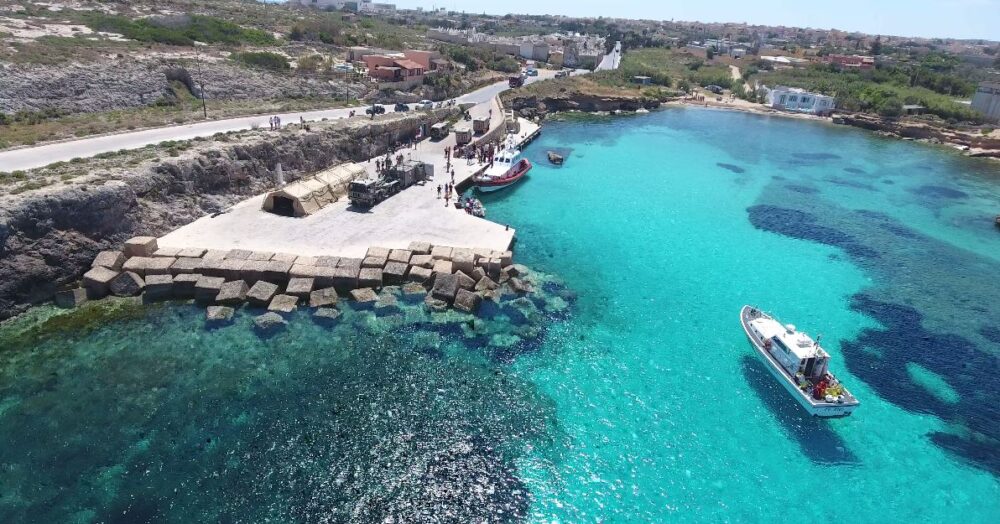 Clients: SIAARTI (Italian Society of Anaesthesia, Analgesia, Resuscitation and Intensive Care)
Location: Island of Lampedusa, Italy
Solution: Conference Management (PCO)
The Academy presented real life challenges in the field of Critical Emergency Medicine (CREM) through hands-on sessions and a simulated experience of a maritime disaster
CLIENT CHALLENGE
SIAARTI, the Italian Society for Anaesthesia, Analgesia, Resuscitation and Intensive Care, was eager to find a new, innovative and efficient way to train its young members. They wanted training that was focused on what was practical in fieldwork, how to find the best solutions and identify who could help in emergencies. Since AIM Group has been organising the Society's National Congress for years we were the perfect partner for developing the right training format. Through this educational pathway SIAARTI could move to the first tier of scientific societies by offering future emergency doctors an exceptional chance to stand out from the crowd while helping it.
The objective of the Academy was to facilitate discussion and in-depth analysis of issues connected to disaster medicine, resuscitation in hostile conditions and the management of drowning risks, hyperbaric emergencies and acute pain.
OUR SOLUTION
For this first edition of the Academy, AIM Group and SIAARTI felt the island of Lampedusa as the most appropriate venue. Once known as an ideal holiday destination, Lampedusa has become the backdrop for migrant boat landings and major socio-sanitary challenges. The island is well acquainted with human suffering and known for its ability to handle emergencies. Organising an event on such an island enabled some local facilities to be revaluated and successfully adapt to the needs of the meeting industry. AIM Group hoped to prove that Lampedusa is capable of hosting events and educational activities. In fact, the island welcomed 100 medical residents from 38 postgraduate schools to attend plenary sessions, lectures for smaller groups, and hands-on sessions with experts and stations with up-to-date simulators. A remarkable highlight of the congress was a maxi simulation. This type of training in medical education allows residents to feel comfortable executing new procedures and improve performance. It is a reliable tool for teaching teamwork and communication. Organised in collaboration with the Coast Guard and the Military Corps of the Italian Red Cross, the sinking of a boat was simulated and field hospitals were situated on the beach.
The specialists didn't receive any briefing or preparation and they had to play different roles, such as wounded (with realistic make-up), rescuers (doctors and nurses) and observers. "Dressing the part" would test their ability to put into practice what they had learned, but above all helped to move the participants from an abstract clinical practise to the empathy of a real life situation.
​
OUTCOMES
SIAARTI and AIM Group took a bold step in choosing this island, sadly well known for the human tragedy that unfolds there daily, for such a challenging format. As a symbol of Europe's growing migrant crisis and at the frontline of providing assistance, Lampedusa was the most suitable place to show the impacts around the issues of emergency aid in the fields of anaesthesia and resuscitation. Moreover, this impact was crucial to the emotional involvement of the delegates: feelings were high during the simulation thanks to direct involvement. Emotions were also high during the testimony of Doctor Pietro Bartolo, who showcased moving stories and photos of his outpatient clinic daily activity, providing medical care for all refugees and migrants.
The creation of a format to be used for the first edition of the SIAARTI Academy was a challenge. The PCO and the Association collaborated to create a training program totally "out of the box" and this alliance was rewarded with excellent results. Not only did it receive strong media attention, but also create a powerful human experience that brought all the participants together.
This experience demonstrated that new training formats mixing team building, hands on and theoretical sessions, enabling participants to live an emotion and leaving a legacy in a destination are the perfect mix to involve young generations.
Do you want to be updated on our latest projects, events and the industry news and trends?
Please, subscribe to our quarterly AIM Insights Newsletter by clicking here