102° Lions Clubs International Convention
How to manage a complex, mega event and involve a major European City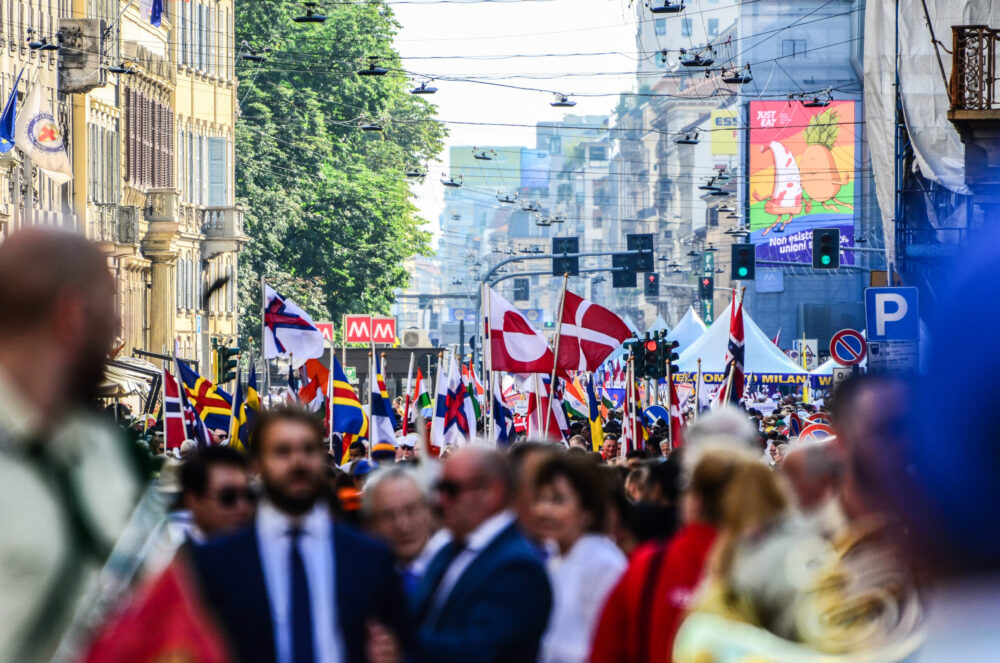 Clients: Lions Clubs International and LCI Italia
Location: Milan, Italy
Solution: Meetings and Corporate Events
More than 25,000 Lions members attended the world convention. It involved the entire city and included a magnificent parade with more than 15.000 people as well as diverse activities and social events. The complex and vast array of events was smoothly managed, making it a memorable experience for the global volunteer association.
CLIENT CHALLENGE
Securing the world convention for the city of Milan was a great success and no mean feat as it was the fourth time that the event came to Europe. Securing Milan as the host city was really down to the joint effort of a successful bid team comprised of Fiera Milano Congressi, the Municipality of Milan, Lions Club Italy and AIM Group International.
Another challenging aspect of this mega event was the very complex nature of the entire project from start to finish. We needed to source or create massive meeting spaces; manage a complex transport plan; secure hotel room blocks 5 years out for more than 5.000 people and finally managing the logistics of a gigantic parade which went through the centre of a busy city like Milan.
The main goals for the 2019 edition were to:
guarantee the smooth organization of a complex event, lasting 20 days and including multiple different side-bar events;
shape events with a high level of customisation and personalisation;
establish a deep emotional connection with the destination.
OUR SOLUTION
The conference sessions were hosted at MiCo Milano Convention Center and managed by MiCodmc. This mega event also included numerous social, charity and flagship events that took place over several days/weeks (from 23rd June to 14th July).
AIM Group's role was multifaceted and involved supporting the smooth organisation of the event, especially in the following key areas:
Social activities. We developed a personalised program, leveraging the varied cultural, artistic and gastronomic assets of Milan. Gala dinners, entertainment, experiential activities, cooking classes, photographic safaris and cultural visits were among the events offered to the guests.
International Parade of Nations. We supported the organisation of a spectacular parade attended by more than 15.000 delegates who marched through Milan's city centre.
Comprehensive transport plan. We managed all logistics including keeping track of all the arrivals and departures to and from many international airports; all the transfers from hotels to the congress center; and local transfers to the various events and to the Parade. Overall 85.000+ people were transferred. We also provided  special assistance (wheelchairs, medical walkers and scooters) for disabled and mobility impaired people).
Accommodation. We managed accommodation for the VIP and LCI delegations and processed more than 20.000 visa requests.
Pre- and post-convention tours. We designed tailored-made packages to visit other fascinating Italian destinations, from Florence and Venice to Positano and Sicily.
To successfully complete this mammoth task, all of our teams had to be highly responsive. On a daily basis, each team member responded to multiple requests, logistics changes, last minute ideas, even crisis management, whilst simultaneously managing the planned events. The key to success was flexibility and problem solving. "We are really proud that we never uttered the word "NO" to any client or delegate. Each day, we received requests that were big and small, standard and peculiar and we dealt with each one with a smile and the best possible solution", that was the common attitude.
OUTCOMES
All of the events were successfully managed and smoothly realised to the immense satisfaction of guests and LCI organisers.  As testified by Mario Castellaneta, Host Committee Chair: "The International Convention of Lions Clubs is a once-in-a-lifetime event. We are very satisfied with the results! It would have been impossible for us to organise this event without the organisational help and professionalism of AIM Group International and MiCodmc. They supported us in all the key issues. It was very important for us".
Lions Clubs International Convention in numbers:
Do you want to be updated on our latest projects, events and the industry news and trends?
Please, subscribe to our quarterly AIM Insights Newsletter by clicking here.