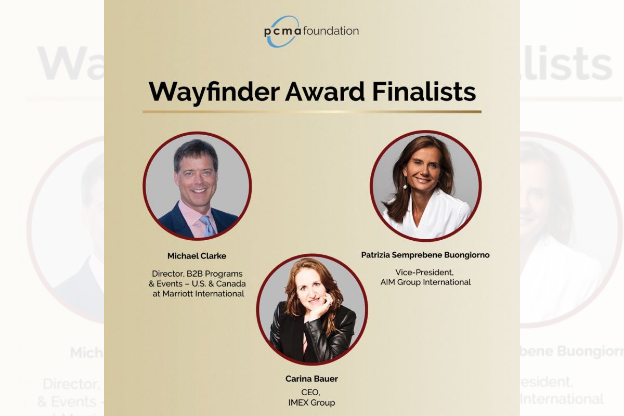 03-08-2021
VP Patrizia Buongiorno is a Wayfinder Award Finalist
"Progress is impossible without change, and those who cannot change their minds cannot change anything." – George Bernard Shaw
Every year, PCMA Foundation honors exceptional industry stars for their significant contributions to their organizations and the business events community. Lifetime achievements are being recognized, as well as business event strategists of the year, groundbreakers and wayfinders.
On Thursday, August 26th, 2021 at the Hilton Washington, Washington DC, the 2020-2021 Visionary Awards will be announced. On that occasion PCMA will be honoring the recipients of this year with exceptional pride during an exclusive red carpet event.
Among these awards, we are delighted to announce that the Wayfinder Award individual finalists include Patrizia Semprebene Buongiorno, Vice President AIM Group International.
The Wayfinder award recognizes an individual who initiated positive action during uncertain times through innovation, courage and leadership.
The other two remarkable finalis finalists are Michael Clarke, Director B2B Events & Programs – US & Canada – Marriott International and Carina Bauer, CEO – IMEX Group.
The PCMA Foundation was founded in 1985 to support the mission of PCMA through scholarships, research, education and critical projects for the meetings and events industry, its profession and its future.Both PCMA and the Foundation have a long and proud history and a track record of success at educating and advancing our industry. Therefore, we are really proud of forming part of this continuous evolution of the industry.
At AIM Group, we all cross fingers and wish Good Luck to Patrizia!