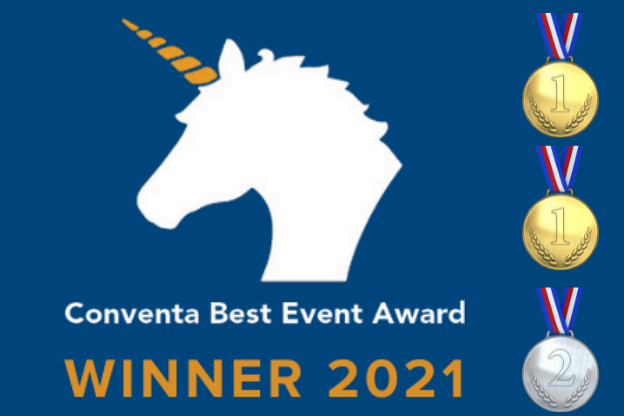 30-08-2021
AIM Group awarded again for creative and innovative projects at the Conventa Best Event Awards
FIMP House was awarded twice, as best B2C event and for the Creativity, and SIAARTI received the Second Prize in Crossover Category
The Conventa Crossover Festival 2021 has come to an end in Ljubljana, Slovenia, and gave the recognitions for the Conventa Best Event Awards. The yearls Festival of Events and Live Marketing proposed to European event professionals a two-day hybrid conference with insightful educational sessions and worldwide renowned senior speakers, this year both in Ljubljana and online.
AIM Group received several awards which recognise the creativity, determination and problem-solving attitude that helped to support clients achieving their goals, despite the extremely difficult situation created by the pandemic.
The 3D FIMP House, realised for the first full digital annual conference of the Federation of Family Paediatricians, was awarded twice as the Best Event in B2C Category and received also the Special Prize for Creativity!
Also SIAARTI Traveling with ICare tour, realised with a truck reaching 8 major hospital with a pop-up outdoor meeting area where anaesthesiologists and resuscitators could discuss, share knowledge and training despite the pandemic limitations, was awarded as runner-up in the Crossover Category, receiving the Second Prize!
All submitted entries were evaluated by a jury consisting of international experts from the field. This vote, considering elements of Creativity, Relevance, Innovation, Execution, Legacy, Results, Communication, Sustainability, counted 80% of the final evaluation, while the remaining 20% came out from the live voting of the audience.
Congratulations to FIMP, SIAARTI and all the involved teams!