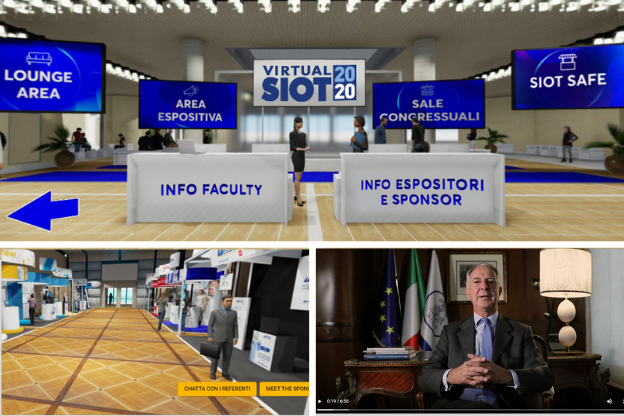 11-11-2020
Virtual SIOT 2020: interactive and lifelike conference experience
A fully immersive visual setting reproduced as a mirror of the meeting location, coupled with a personalised scientific content experience and engaged sponsors made this virtual meeting a success.
Virtual SIOT 2020 was an innovative and completely virtual scientific event organized by SIOT, the Italian Society of Orthopaedics and Traumatology, and AIM Group International. It was organised on 6th and 7th November, on a fully customised web event platform which welcomed +1.000 registered participants.
Usually in the Autumn, the Scientific Society celebrates its annual congress in the Rome Waldorf Astoria Hotel. They decided to postpone the 2020 congress to the same location in 2021. However it was  also decided to go ahead and organise  a virtual event to discuss the most important and current topics related to the Covid emergency and other pressing issues for the orthopaedic community.
To make the experience as close as possible to the in-person event in Rome, a 3D reproduction of the congress center in the Rome Waldorf Astoria Hotel was designed. In this virtual environment, a 3D tour allowed participants to move freely, from the lounge to the exhibition areas or to the meeting rooms.
The plenary room and the three parallel session rooms hosted the live scientific sessions, where participants could interact with a chat box. By clicking on the Exhibition Area, participants could access a floor map showing the sponsor areas with access to 3D virtual stands, where they could view videos, consult product sheets or contact company representatives through chat or video calls.
An innovative solution for networking was also created as this is a crucial element to the SIOT conference. In the Lounge Area all the profiles of individual participants were showed offering opportunities to interact individually with each of them, through a chat or a video call.
Finally, each participant could personalise their agenda, choosing between live scientific sessions, meet-the-sponsor meetings, or freely moving from one space to another to chat with someone, visit stands or interact with speakers. If participants missed some sessions they had an opportunity to view them on demand for six months.
"Organising a new event on a 3D virtual platform for SIOT was exciting for our team as we could leverage all the opportunities offered by technology and help the client create memorable experiences for their members, despite the actual restrictions" says Sabrina Gataleta, Key Account Manager AIM Group International. "We are really happy that SIOT was successful and, as the SIOT President said, we look forward to work on the next congress that we hope will be in-person in Rome".