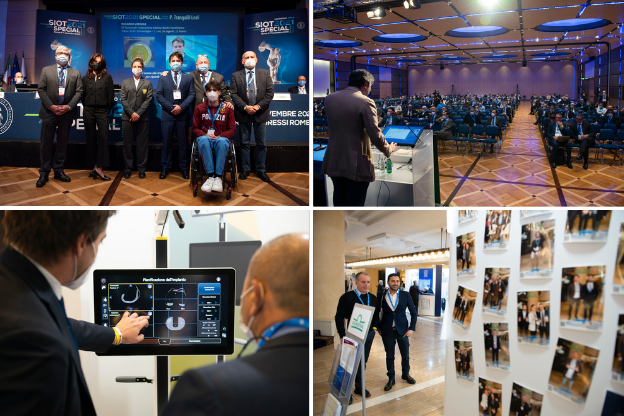 10-12-2021
SIOT Special Edition: a good first!
To avoid excessive gatherings, the SIOT annual congress was postponed to 2022 and a new, more compact format was created, which exceeded the expectations of all the doctors and companies involved.
The annual congress of the Italian Society of Orthopaedics (SIOT) usually attracts a large number of participants, over 3,000 which is quite a high number during a pandemic with all the distancing requirements involved. It was decided to postpone the national congress to 2022 and create a special compact in-person event for 2021.
The 4-day meeting was maintained but the format was simplified concentrating the discussion on the most important and current issues in a single plenary room, instead of the 9/10 parallel sessions held in breakout rooms. It also involved online streaming of the sessions.
The response was enthusiastic and exceeded expectations: 1,400 in-person participants registered in Rome which was far above the expected 700. This reflected the desire of physicians to meet again and to discuss face to face. With the realisation of a large exhibition area and 45 sponsors, companies were also very satisfied.
The institutional presence was also significant with the former Minister of Health Beatrice Lorenzin and the video message from the Minister for Equal Opportunities Mara Carfagna at the Equal Opportunities commission which SIOT set up to promote the access and careers of the few women represented in the Orthopaedic area, and  the final round table which centered on the Covid emergency and the impact on Orthopaedic treatments at hospitals. was broadcast
This year, the Golden Tree Awards were awarded to recognize the merits of the people who distinguished themselves during the pandemic, such as Paolo Figliuolo, Commissioner of the National Vaccination Campaign; Dr. Alma Patrizia Pacini, President of Pacini Editore (a woman who knew how to keep the company in business and hire despite the crisis); Ambra Sabatini and Antonio Fantin, Paralympic champions and Riccardo Vernole, National Paralympic Swimming Technical Director.
The event took place in total safety, respecting social distancing, the use of masks, temperature and green pass control, and the daily tracing of all people, including the technical staff who were present at the conference center.
The participants were really satisfied as well as the client, who thanked the AIM team for their effective support and collaboration spanning several years. The next edition of the annual congress will take place on 10-12 November 2022.