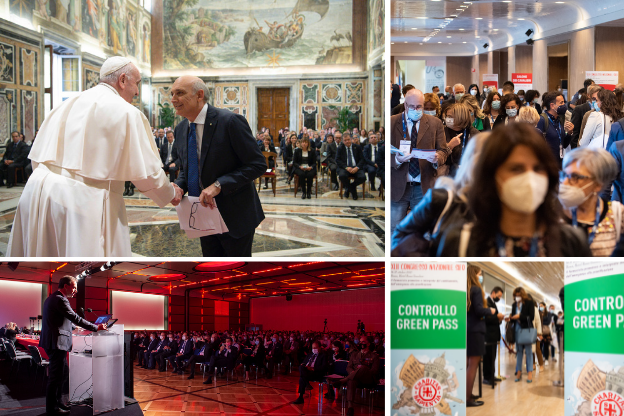 25-10-2021
SIFO Congress 2021, a dialogue with all stakeholders
From an audience with the Pope to a discussion with the institutions and the involvement of all members: the first in-person event of hospital pharmacists achieved highly significant results.
SIFO (the Italian Society of Hospital Pharmacy and Pharmaceutical Services of Healthcare Companies) successfully held a much awaited in person National Congress in Rome from 14 to 17 October. The response was beyond expectations with over 1,500 participants, a large presence of young professionals, +100 sponsors, an exhibition area of ??over 700 square meters with over 50 stands and excellent media presence.
The 4-day scientific program was rich in content with 8 main sessions, 16 focus sessions in 6 parallel break-out rooms, 23 sponsored symposia, 270 speakers, 570 e-posters, not to mention 3 webinars, organized in the run up to the event between June and July.
The organisers primary objectives were to avoid a virtual format and return to an in-person format, involve the whole scientific society, expand the number of active members and enlarge the topics covered at the meeting through a member survey. A photo contest on the health emergency helped involve members. The winning photos were exhibited at the conference venue as well as on social media. Another competition was launched to design the logo for the celebration of the 70th anniversary in 2022.
"A year ago when I considered proposing an in person National Congress to the Board of Directors, some thought I was a dreamer, but sometimes those who make decisions must be pragmatic but also have the vision for the future. Seeing you here today I know that we have made the right choice" said SIFO President, Dr. Arturo Cavaliere, during the Inaugural Ceremony.
The social program was engaging, especially the Speaker Dinner, hosted in the splendid Gallery of Palazzo Colonna with an aperitif in the nymphaeum and the Social Dinner at Villa Miani. The aperitif on the Villa Miani terrace was donated to a charity in Rome dedicated to support the families of children with cancer. A moment that will enter the annals of the scientific society was the Papal Audience at the Clementine Hall in the Vatican. When a representation of hospital pharmacists met the Pope, the Holy Father underlined the role they played in the health service and their continued service to human life.
"The SIFO Board of Directors believed in the importance of coming back to meet face to face. They were very satisfied with the results, because of the indepth discussion on scientific issues also the networking and experiences made it possible to fully enjoy the opportunities that an in-person event has to offer. We are happy to have supported the client achieve its goals" says Lavinia Ricci, Business Manager of AIM Group International.