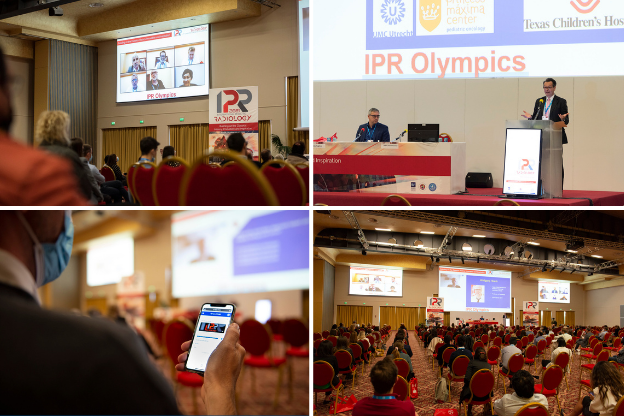 31-01-2022
IPR Olympics: How to foster engagement among digital and in-person attendees
One of the main challenges of hybrid congresses is to establish collaboration among both the digital and in-person participants. AIM Group International is sharing a compelling case study from the International Congress of Pediatric Radiology. At their hybrid scientific conference an innovative feature helped connect North-American and European radiologists in a truly engaging way
The 2021 edition of the International Congress of Pediatric Radiology (IPR) held every five years alternating between Europe and North America, was organised as a hybrid in Rome and online. There were 220 speakers in total, 100 were connected remotely. 350 delegates were present in Rome and 650 participants were actively following the congress online. To foster knowledge sharing of the scientific content, IPR wanted make the event interactive and engaging with real collaboration among digital and in-person attendees.
To fulfill this objective, we created the IPR Olympics, a scientific competition involving the two distinct audiences. There were two teams of six chosen from the speaker faculty. One team represented the European Society of Pediatric Radiology and the other the American Society of Pediatric Radiology. The teams met in person and online. All the team members connected from their pc and were projected on two big screens in the plenary room in Rome.
A quiz master moderated the game with a series of multiple-choice questions on the most important and updated scientific studies and findings and some cultural questions about the host city. The audiences in the plenary room and online were asked the same questions as the competing teams. Then all the answers were compared and commented on, resulting in an interesting discussion.
This engaging format conducted with an informal and spontaneous style, resulted in active participation and was really appreciated because it encouraged interaction and fun, while stimulating discussions about important scientific content. The Congress Presidents, Andrea Rossi & Damien Grattan-Smith, commented: "Everything was just flawless. The room was as full as could be under the circumstances, and the audience reacted enthusiastically and with real participation… Our IPR Congress would not have been the same without you".
"The client was really satisfied with the results and very happy to be able to organize the event in-person, while fostering the engagement of both digital and onsite delegates" underlines Rosangela Quieti, Managing Director Congress Dept. AIM Italy. "Over the last two years, we have been discovering new ways to communicate scientific content and facilitating collaboration among delegates. Despite social distancing and remote participation, we have learned not to be afraid of proposing new, unusual activities, taking inspiration with creativity from other sectors such as gaming, TV shows or social media. The more you develop the ideas, the more effective your format will be".
You can find more information about the IPR Olympcis Impact Story on the AIM Group website.
Watch a brief video about the event