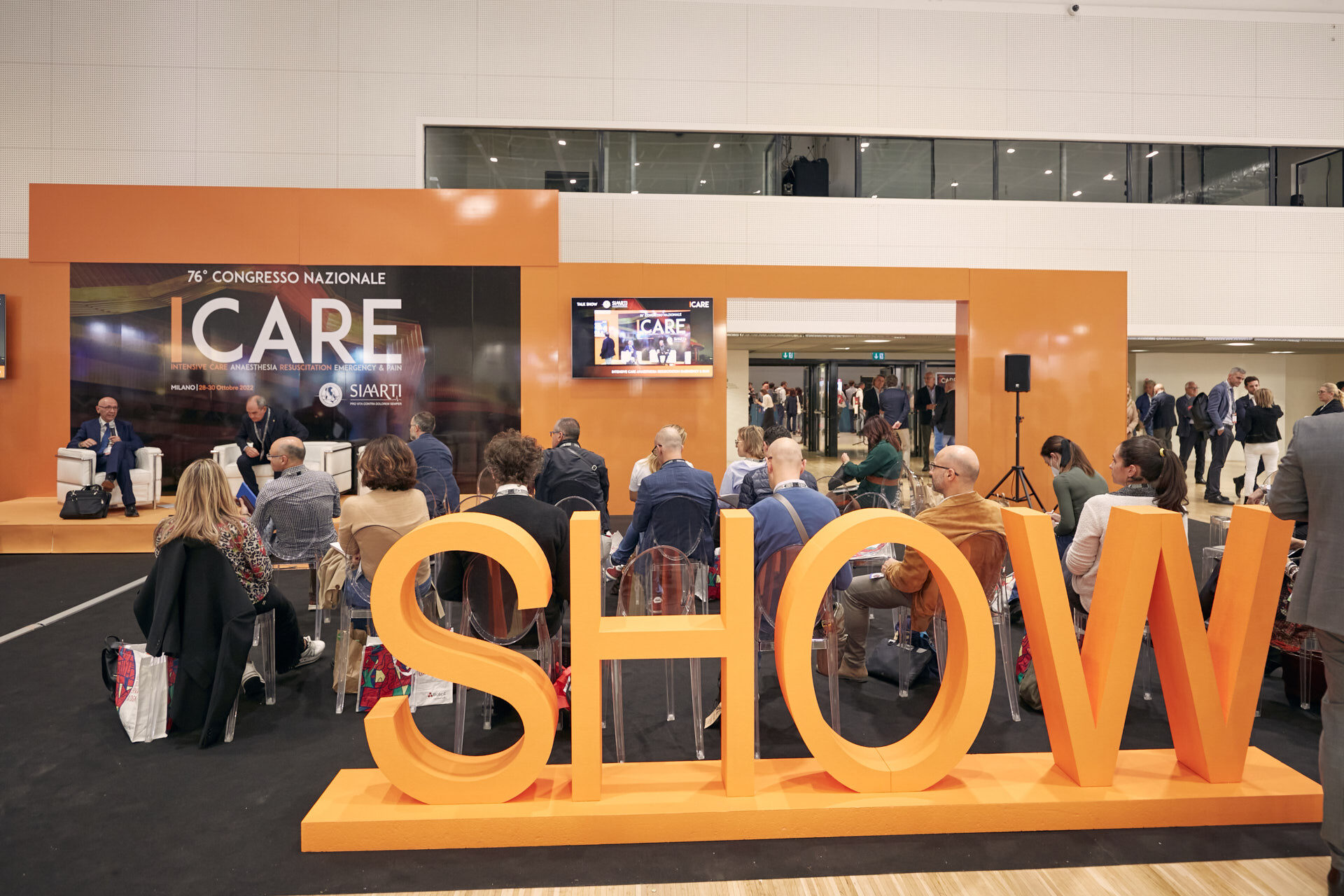 25-11-2022
Investment in in-person scientific events is on the rise again. Record-breaking numbers of both participants and sponsors at SIAARTI ICARE 2022
After two years' lull as a result of the pandemic, demand for 100% in-person medical scientific events is again increasing, as evidenced by several important events organized by AIM Group International in recent months.
"We are seeing significant interest in 100% face-to-face events, with consistently high attendance levels at this autumn's annual congresses. Furthermore, support from sponsors is growing, both because established companies are investing more, buying larger spaces and/or seeking additional opportunities for communication and scientific dissemination, and because of increasing interest from emergent new supporters, such as device manufacturers and pharma companies. The SIAARTI ICare National Congress, just celebrated in Milan, is a clear example of this" says Gaia Santoro, Head Business Sponsorship Unit AIM Group International.
The lure of in-person events
Held for the first time during a Friday to Sunday timeframe, from 28th to 30th October at the MiCo Convention Center in Milan, the Congress of the Italian Society of Anaesthesia, Analgesia, Intensive Care and Resuscitation, registered record-breaking numbers, up sharply compared to previous editions:
3,400+ attendees, with more corporate and educational grant registrations compared to individual registrations.
The 90 scientific sessions in 7 parallel rooms (compared to 66 in 2021) were enormously popular, with classrooms always crowded (especially on emergency issues, technology and artificial intelligence, etc.).
The expo area spread to over 4,000 square meters, with 78 exhibitors.
The overall number of sponsors attending the congress was 87 (versus 75 in 21), with many new companies that had never previously participated.
The Talk Area, hosting highly interactive events, proved particularly attractive. In 2022, trainees and young specialists took part in simulation tests, during a contest where young delegates were encouraged to challenge each other live from different stations. The winners were then rewarded during an informal ceremony.
The destination matters
"After 35 years, the congress has returned to Milan, and this new destination certainly appears to have had a positive impact upon attendance, as witnessed both by the high number of delegates who were accompanied by partners and by the trend for extended stays either side of the congress – the so-called "bleisure" effect, where business trips are combined with leisure activities" explains Santoro.
The social program included a Faculty Dinner at the Museum of Science and Technology in Milan, for over 250 guests, and a party for young anaesthesiologists of the SIAARTI Proxima group, at the Nhow Hotel. Thanks to the support of YesMilano! and Fiera Milano, these young delegates were also offered free admission to the Milan Museum network for the opening night at the Mudec Museum near the Nhow Hotel.