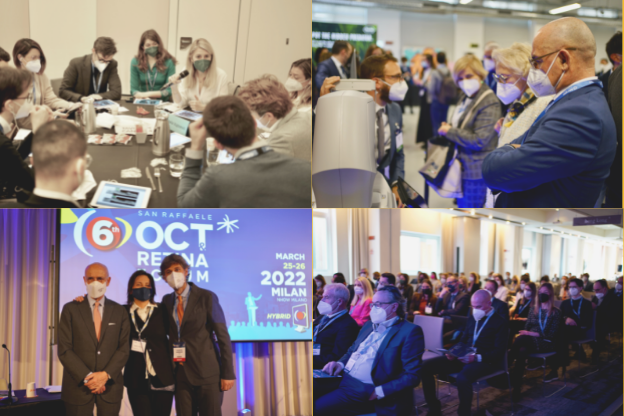 26-04-2022
Hybrid, fresh and International
The San Raffaele OCT & Retina Forum scientific conference offered ophthalmologists effective ways to meet and discuss both on and offline.
Following on from the success of the 2021 edition – an innovative TV format broadcast over a month, the 6th edition of the San Raffaele OCT & Retina Forum brought even more new innovations which meant that the participant and sponsor experience was fruitful and engaging.
The congress of ophthalmologists was organized as a hybrid meeting, which allowed an international audience, especially delegates from Europe and North America to participate. Over 300 delegates connected online with similar numbers participating in person at the NHow Hotel conference center in Milan.
The congress program included presentations on imaging, a focus on therapies as well as latest updates on treatments for maculopathy, vascular and retinal diseases. Some of the world's renowned researchers released results from their recent clinical trials. The congress was also an opportunity for ophthalmologist education for younger doctors. Special clinical sessions were organised for them where expert speakers were available to discuss with residents and fellows following challenging case presentations. The patient was virtually "visited" by a panel of international experienced ophthalmologists, sharing diagnostic evaluations and discussing the most appropriate therapies.
To stimulate real-world meetings between the specialists and the sponsors, 3 sponsored lunch symposiums were organised at the congress center and transmitted online, and 2 sponsored breakfast meetings were also organised with sponsors and key opinion leaders sharing an excellent Sicilian breakfast and an interactive discussion. These meetings were carefully scheduled so they did not overlap with the scientific sessions.
An exhibition tour contest encouraged delegates to visit the large exhibition area. Each of the 20 exhibitors gave a coloured sticker to booth visitors. Only those with all the stickers had a chance to win a prize.
In addition, a walking discussion was organized in the nearby poster area, where 15 authors exchanged information with visitors and answered questions about their research in an informal atmosphere over an aperitif.
Among, the new initiatives introduced in 2022, delegates were asked to vote for their favorite brand image for the 2023 congress edition. Also, Bayer supported the international Rosario Brancato Retina Award which was dedicated to doctors under-45 years and honoured the famous ophthalmologist: Rosario Brancato.
At the same time as the OCT Retina Forum, a small group of ophthalmologists were involved in another networking event. The Dialogue in the dark experience was an interactive guided tour in the dark at the Institute of Blind People, followed by a dinner. This highly original and moving experience was really appreciated by participants who had an intense dialogue with their blind guides, exploring the 4 other senses.