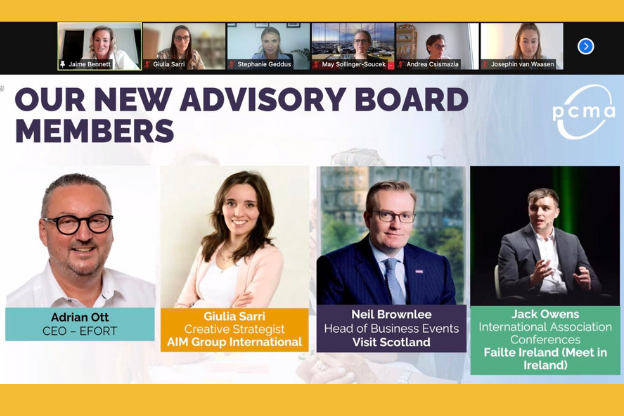 21-04-2022
Giulia Sarri, AIM Group, joins the PCMA EMEA Board
Following her participation in PCMA's TwentyInTheirTwenties Classes?in 2019, the European Regional Advisory Board of PCMA has recently nominated Giulia Sarri as an ex-officio member.
On Global Meetings Industry Day April 7th,?Jaimé Bennett, Regional Director?PCMA EMEA announced four new members of the European Regional Advisory Board of PCMA, namely?Adrian Ott, CEO European Federation of National Associations of Orthopaedics and Traumatology (EFORT);?Neil Brownlee, Head of Business Events Visit Scotland; Jack Owens, International Association Conferences Failte Ireland and?Giulia Sarri, Creative Strategist at AIM Communication, part of AIM Group International.?
Giulia and Jack, two young event professionals, started their journey in the association when they were chosen to join the?TwentyInTheirTwenties Classes?of 2019 and 2021. This award recognizes the value of 20 talented future leaders all around the globe and gives them the chance to join PCMA events and exchange opinions with industry senior leaders for one year.
Subsequently, both were invited to join Sherrif Karamat, PCMA President and CEO during his closing speech at the last?PCMA Convening EMEA in Lausanne. They had the opportunitiy to share fresh insights and perspectives and give practical tips on the future of the industry.?
?Now it's time for the next step. "I am delighted to be selected as an Ex-officio member to sit on the PCMA EMEA Board together with passionate and keen professionals for two years. I am already working together with the Convening EMEA event programme committee to tailor a rich, practice-driven and pleasant meeting to be held in Vienna! I am grateful and excited for this chance!", comments Giulia Sarri.
A few months ago, another one of our team members, Annalisa Ponchia,?Innovation & Customer Experience Director at AIM Group International was nominated member of the International Board of Directors of?PCMA. She previously served 5 years at the EMEA Advisory Board. Annalisa brings 30 years experience as an events industry professional. She is the first Italian to take part in the highest governance level of PCMA and joins the board from January 2022.