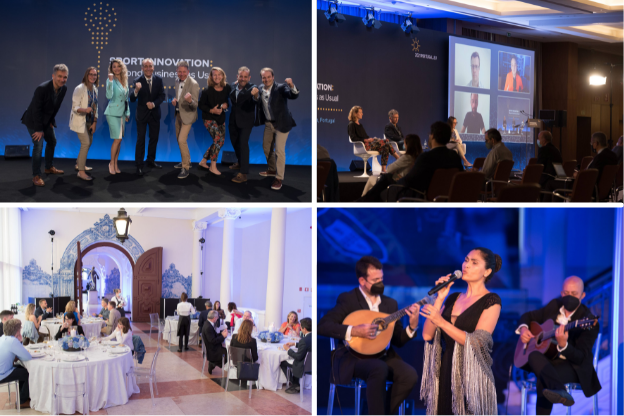 30-06-2021
Coming back to in-person events in a safe & secure way
Thanks to strict safety measures, the IPDJ Seminar on Sport Innovation, offered an effective and pleasant hybrid experience which welcomed +100 international attendees in Lisbon and an even larger audience online.
The Portuguese Institute of Sport and Youth (IPDJ) wanted to organise an International Seminar aimed at promoting and guiding sport policies, sharing best practice and increasing awareness of innovation in sport for representatives of EU Member States and sporting organisations, as well as researchers and the broader sports industry. Following the successful roll out of the vaccination campaign across Europe, with low pandemic figures and restrictions being lifted, it was decided to organise an in-person event.
A hybrid meeting with local flavour
AIM Group's Portugal Office was appointed to orgainise the event and put in place the necessary measures to guarantee a safe and effective event. Given the rules and measures in force in Portugal from the beginning of June, it was decided to realise a hybrid, augmented format, with an in-person event in Lisbon. This meant that some speakers and most of the attendees were online and some speakers and representatives in-person.
"The expectations and the desire to meet in person again were high and our main objective was to put in place all the necessary safety, preventative measures needed to reassure all the participants but also to create an easy and pleasant atmosphere" explains Madalena Miranda, Area Manager Iberian Region AIM Group.  "Why should people travel again? Because only in this way can they meet people, freely chat, discover new places and local cultures. So, we designed the right balance between strict measures, engaging sessions and some social interactions with a very local flavour".
Advance Testing
Even though it was not a prerequisite of local regulations, a specialized healthcare team was set up in the hotel to antigen test all the participants upon arrival on the 16th and 17th June. There was also an isolation room in case there was a positive test in the group. Furthermore, PCR covid tests were performed individually for all the participants flying back home, for destinations requiring a PCR. Delegates were asked to wear masks all the time, apart from when eating or drinking. When needed, the AIM staff provided information to the guests about air travel, Covid-19 procedures and counselling for traveling.
Simple hybrid seminar
A hybrid seminar recorded 440 overall registrations, with 125 people onsite for 2 days. A vast meeting room hosted the plenary sessions, with spaced-out seats and a large monitor where remote speakers were projected. A safely spaced and sanitised area was used for food and beverage catering. To facilitate the online participation two channels were put in place: a web platform and a dedicated app which allowed many delegates to easily connect from their PC or smartphones.
"Everything went smoothly, participants really appreciated the possibility to discuss live in front of colleagues from other countries and freely interact during the social breaks. Networking was fun and spontaneous" adds Madalena.
Experiencing the Portuguese culture
Upon the group's arrival, a traditional medieval game: the Jogo do Pau, was presented at the entrance of the venue. This outdoor display meant there was less risk than an indoor event and permitted a good distance between participants.
"For the gala dinner we chose two excellent reflections of Portuguese cultural heritage. The venue was the Pavilhão Carlos Lopes, an Art Décò building decorated with the famous azulejos ceramic tilework. Then, a charming fado singer entertained the group during the dinner, creating an unforgettable atmosphere they could only experience in Lisbon" continues Madalena.
"Finally, the client was really satisfied and thanked our team who supported them, with strong commitment, in a short time frame and with creativity to organise an in-person event, with all the necessary preventative measures but overall providing the pleasure and the richness of human interaction, while maintaining an online audience" concludes Madalena.
Watch the video about with the highlights of the event: