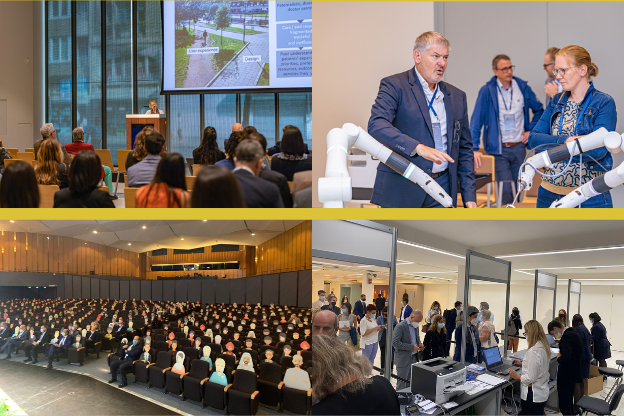 19-10-2021
Back to face-to-face meetings: The pleasure to meet again.
Belgian Surgical Week in Belgium and the AIAC Congress in Bologna were realised as full in-person events, marking how we are coming back to normal.
Several annual scientific congresses are planned for the last part of the year in full open or hybrid format. Some of them have been recently held registering success in attendance, in sponsorship but overall in the satisfaction of speakers and attendees to meet face-to-face again.
The Belgian Surgical Week was realised as a full F2F congress at the Antwerp Elisabeth Congress Center, from 8 to 11 September 2021, with 550 participants. AIM Group organised the event for Royal Belgian Society for Surgeons, a client with which they have been collaborating for several years.
Due to Belgian rules, participants must be checked in at arrival with their Green Pass and then they could attend the event, inside the congress centre, without wearing a mask and without social distancing: like a normal pre-Covid event. So the event was regularly planned with plenary and break-out sessions, three hands-on workshops, a gala dinner with open bar and DJ set. The participants were at ease. It was a success.
Also sponsorship went well: 26 sponsors supported the event, a high number for this event, and on top of that it raised more money, perhaps because the companies could invest more than in past years since they saved during the previous year.
"Finally, we can say that everyone was happy and the customer was very satisfied – outlines Belgin Topkaya, area manager Western Europe, AIM Group International – after the success of the first virtual event we realised last year." In 2022 the next edition will be in Ostend in Belgium, in May.
After postponing it four times since March 2020, the 17th AIAC National Congress (Italian Association of Arrhythmology and Cardiostimulation) was finally held from 15 to 17 September 2021 in Bologna, at the Volvo Congress Center, in attendance mode. AIM Group organised the event.
It was a scientific congress with a very rich program, which registered a large participation with 658 participants (including 258 speakers), 318 exhibitors, 78 oral communications, 56 posters, 10 sponsored symposia and 22 sponsor booths, 40 scientific sessions, 9 sessions of Oral Communications, 3 E-Poster sessions, and 5 mini-courses.
Many preventative measures were put in place. At the entrance, the review of the Green Pass, temperature measurement, masks obligation, gel to disinfect hands and signs with information on anti-Covid rules located throughout the congress area, meeting rooms with reduced capacity to respect distances, detectors in the room to monitor reaching the maximum number allowed.
The exhibition area was revised to leave more free space and the booths were arranged in a different way, along the perimeter, to leave empty central space where participants could move, meet and talk.
Box lunches were served, and since the weather was good (being in the first half of September instead of March), we also used the outdoor spaces as pleasant catering area.
"People were all at ease, there was a lot of movement and the rich scientific program involved the delegates. The customer's feedback was positive and we were also reconfirmed to organise the next edition again in Bologna in the summer, 15-18 June 2022" says Alessia Ostorero, Business Manager, AIM Group International.