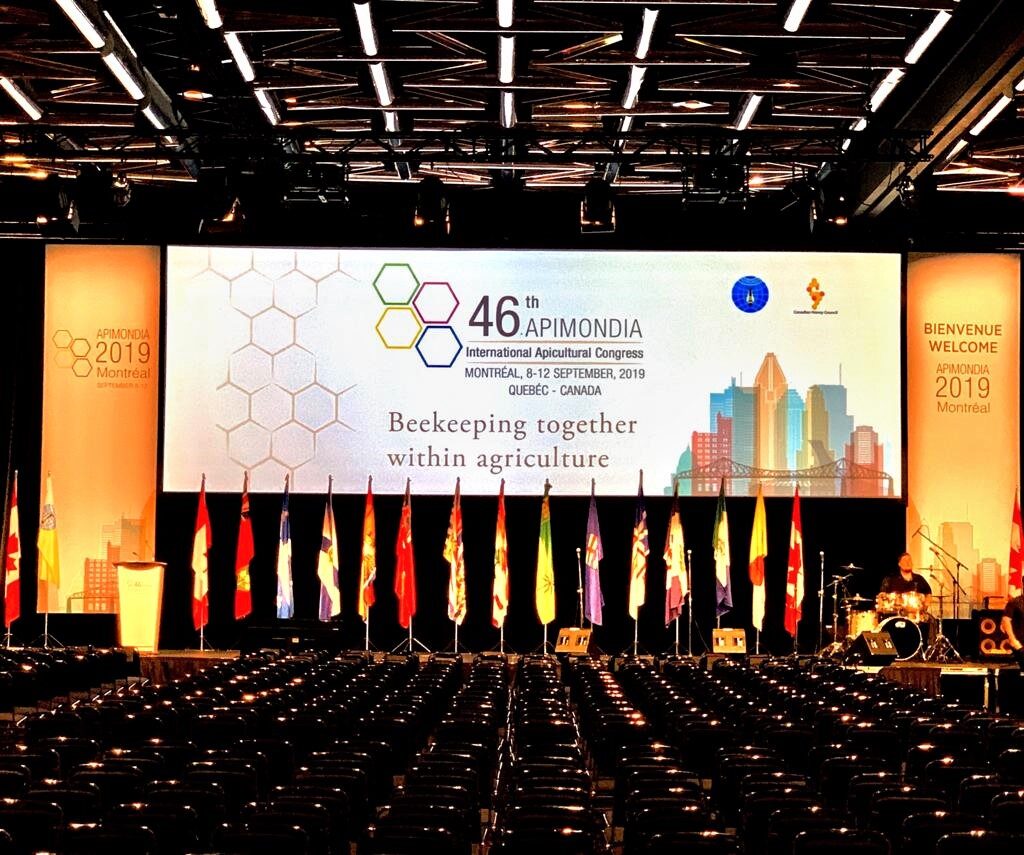 14-10-2019
APIMONDIA: a world congress that future-proofs bees
A rich and varied congress program, a dedicated trade fair and a multichannel promotional campaign engaged the 5.500+ beekeepers for an interactive congress.
Every two years, beekeepers, honey-traders, development agencies, scientists, technicians and legislators gather to share best practice, network and create business opportunities around the world of honey. It is a crucial meeting, if you consider that bees are one of the most important animals in our food ecosystem and beekeeping is an activity which has a huge impact on the environment and the economy.
The last 46th APIMONDIA International Apicultural Congress, held in Montréal (Canada) September 8th to 12th 2019, confirmed this vision. This major event was quite complex, with 5.500 attendees from 134 countries; 241 exhibitors in an exhibit area of 5.000 sqm; 100 speakers from 25 countries; 50 symposia; 9 hands-on workshops; 9 round tables; 940 abstracts of which 320 lectures were presented onsite and 363 posters over a 4-day poster session. AIM Group has organised this impressive event since it was appointed full PCO in 2015.
Alessia Ostorero, business manager AIM Group Rome Office explains "One of the crucial areas was the organisation of ApiEXPO, a trade fair dedicated to beekeepers but also open to the public.  The trade fair was a success and the 5.250 sqm exhibition area was rapidly sold out".
Another key aspect of the event was digitalisation. We introduced easy, innovative tools and an app to facilitate the participants' experience. We also organised a visually appealing digital photo contest on Facebook and an Ambassador's Program.
Like many congress nowadays, we also organised a really nice local engagement program with opportunities to visit Canadian Bee farms. 8 technical visits were organised, starting with an urban agriculture lab in the "Palais des Congrès" of Montréal followed by visits to Ontario and Quebec City.
Finally, the congress also left a tangible legacy with a fundraiser being organised to help beekeepers from the Bahamas just after Hurricane Dorian.
"The organisation of such a complex congress, on another continent, was really challenging – says Ostorero -. We are really happy that our client had the confidence to trust us for this role and we appreciate the encouraging feedback that we received. That has been reward in itself."