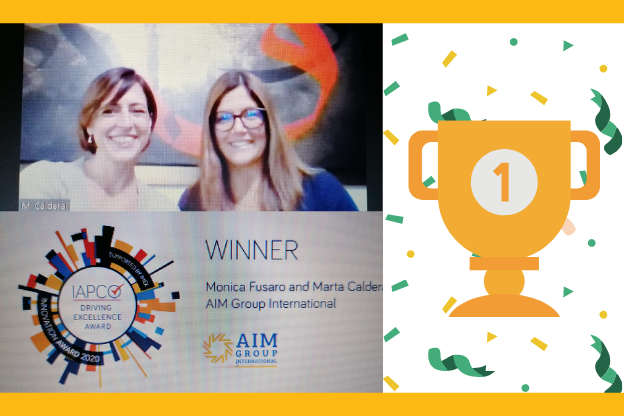 19-10-2020
AIM Group wins the IAPCO Innovation Award with an avant-garde hybrid event, realised one year before covid restrictions
Marta Calderai and Monica Fusaro, Project Leaders of the Hypertension Unit of AIM Group International, won the Driving Excellence Innovation Award, conferred by IAPCO (International Association of Professional Congress Organisers). They were awarded the WEB TV Platform used during the 2019 European Society of Hypertension (ESH) Meeting.  
At the 29th European Meeting of Hypertension an exclusive Web TV channel providing personalised content was created as a new sponsorship opportunity. This was a great innovation, which was cost-effective and ticked all the boxes for the Society and the sponsors.
"We are immensely proud of our team who were able to understand the potential of online streaming of in-person events, way before current limitations on mass gatherings, which have effectively forced the industry to transform events into digital formats" outlines Patrizia Semprebene Buongiorno, Vice President AIM Group International. "The WEB TV project followed on from the streaming online format used in the 2018 ESH meeting. It clearly demonstrated how you can enlarge the audience,  personalise content, maintain a high level of scientific communication and find creative solutions to make congresses more appealing. This capacity to anticipate needs, move quickly towards the future and collaborate with our clients is crucial at this moment. Congratulations to all the teams involved".
The ESH wanted to broaden the reach of its high quality scientific content, especially to potential members and countries. The corporate sponsors also wanted to reach new markets, outside Europe. They were keen to strengthen their message-appeal using new digital communication methods. Monica Fusaro and Marta Calderai, who have collaborated with the client for several years, suggested offering the Web TV as a sponsorship opportunity for the 2019 congress.
The Web TV was a win-win situation for ESH and their sponsors. The channel was available on the congress website, it was easily accessible via the congress app and displayed on big screens located in the social area. All the videos were made available on-demand for one year, which extended the life of the meeting beyond its live context.  The audience of a streamed symposium increased by 145% with many listeners coming from outside Europe.
You can discover more details about this success story on the dedicated webpage.