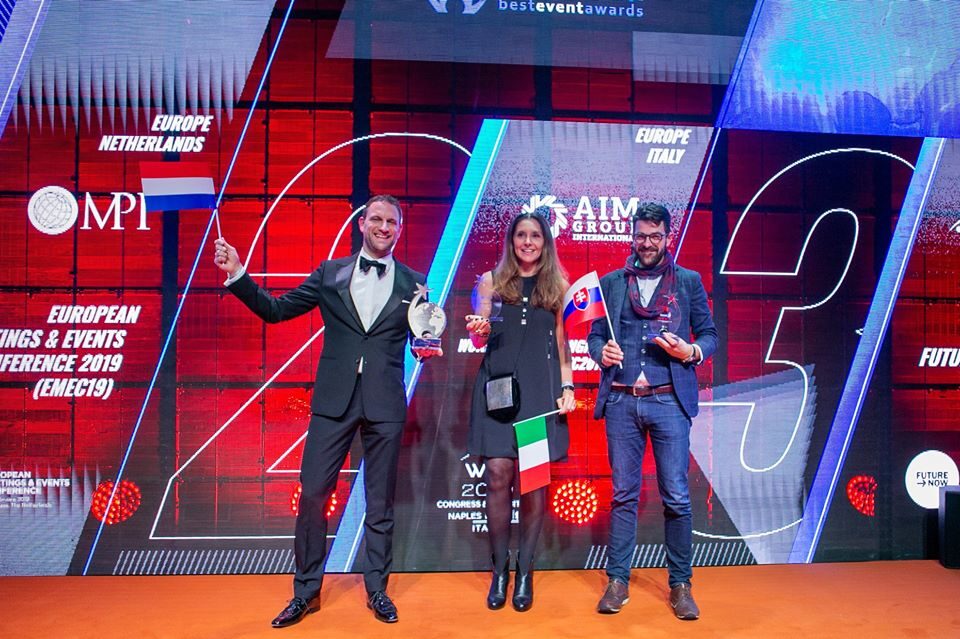 02-12-2019
AIM Group wins a Best Event Award for WTC Congress
The event realised in Naples with record numbers and an innovative scientific program was recognised the silver prize in Congress Category
AIM Group International has received a Silver Prize in Congress Category at the BEA World Best Event Awards, the international renown award which annually gathers the most dynamic event and communication agencies competing with their greatest projects realised in the past 12 months.
The prize was recognised to the World Tunnel Congress 2019, a major international conference promoted by Italian Tunnelling Society (SIG) and ITA-AITES Association and organised by AIM Group in Naples 5-9 May 2019. The last edition had a very innovative programme, strongly linked to Naples and its professional community, with engaging, scientific sessions coupled with exclusive experiences in unique locations, able to attract a record number of attendees and an increase in exhibitors.
A particular "cultural mixture" was one of the event's stand out features. Engineering-related topics were combined with typical elements of Italian culture, such as Archaeology, Architecture and Art, which are themes very evident in Naples.
Furthermore, delegates have been involved in a series of off-site events and technical visits to some of the local significant tunnel projects: the Greek-Roman tunnelling system, the underneath itinerary of the just-restored Galleria Borbonica and the award-winning Metro station in Naples.
Outstanding social moments gave a truly local taste: some working lunches were organised at the remarkable archaeological Pausilypon site of Seiano Caves; the Gala Dinner was hosted at the Pietrarsa Railway Museum; a special concert was organised at the prestigious San Carlo Theatre. These were just a few of the unique and immersive experiences delegates could live.
"We are really enthusiastic of the award which recognises a complex and stimulating event management" says Lavinia Ricci, business manager Congress Division AIM Group. "We are really glad to have been able to support the client to realise a unique, successful congress which marks the association history. I would like to thank all the AIM working team who made this possible: Mirta Pacanowski, Ilaria Cereda, Federica Liso, Giuliana Verganti, Maria Chiara Dall'Olio, Dafne Sfoggia, Irene Pestarino, Chiara Borsarini, Antonella Abbruzzino, Marica Motta and Fabio Craba".
For more information about WTC Congress, you can read a dedicated Impact Story online or watch a brief video of the event.