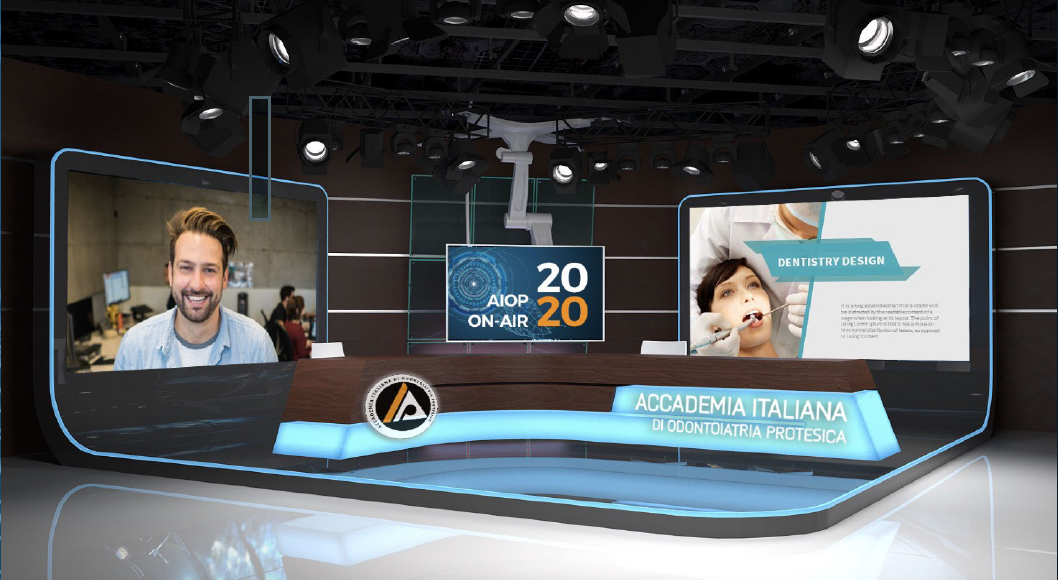 21-04-2020
AIM Group International transforms a scientific congress into a virtual interactive experience
AIOP on Air taking place from 30th April to 2nd May will be a fully digital, immersive and realistic scientific congress that enhances knowledge exchange, networking and sponsor visibility
AIM Group International paves the way on how to realise events despite the Covid-19 crisis by organising a full digital congress for the Italian Academy of Prosthetic Odontology (AIOP).
The annual event which was originally scheduled to take place in the congress center in Riccione (Italy), was not possible with the outbreak of Covid-19. Working in collaboration and in partnership with AIM Group International, the AIOP embarked on an ambitious plan to transform its annual congress to a fully online event. AIOP is the first Italian scientific society to experiment with this kind of solution.
The scientific content of the congress was already defined, the sponsors confirmed, and a good number of participants were registered. AIOP was ready for innovation, so there were good conditions to take the bold step to transform the event into a virtual digital experience.
Drawing on the technical expertise of Tecnoconference – TC Group, the delegates will be able to follow the congress sessions remotely, simply by connecting online to the "AIOP On Air" platform from their PC, tablet or smartphone. Several tools will be used to ensure active online audience participation. It will be possible to interact with speakers and exchange views with other participants through chat rooms and poll systems.
The event will take place in a "virtual television studio" which has a realistic and immersive layout, with different graphic set-ups according to the type of session. The speakers will ensure that their presentations are lively with slideshows, videos and virtual question and answer sessions. Moderated with a strong chairperson, there will be a live talk show, where supporters and opponents of a specific topic will discuss, debate and engage with the online audience.
The large exhibition area, planned for the conference center, will be realised through a complete digital experience. A well-structured area dedicated to sponsors will offer the possibility of following thematic itineraries (live and on-demand), consulting corporate documents and presentations, but also attending one-to-one or even one-to-many meetings with exhibitors. The experience offered to the participants will be particularly rich and diverse with thirteen different ways of interaction divided into three categories: Branding, Video Content and Meet the Sponsor.
The online format gives further benefits: the association could also attract new audiences, who otherwise would not have been able to attend the physical meeting, and attendees can follow all the content rather than being restricted to attend one of the parallel sessions.
All the content of the live event will be available on demand for one year. An internal search engine will allow participants to search the content through personalised thematic journeys and by: Speaker, Keywords, Tag or Topic.
"I am convinced that this innovative event, whose origin is undoubtedly caused by the Covid-19 emergency, will transform a challenge into an opportunity, opening new horizons even for the future when the emergency is over", explains Carlo Poggio, President of AIOP.
"We are delighted that AIOP decided to undertake this innovative path together with us, rescheduling the entire event in a few weeks – explains Rosangela Quieti, managing director of the Congress Department, AIM Group International. As event professionals, we know that in this crisis situation, we must put our in-depth knowledge of the needs of scientific societies and companies and of the learning processes to create effective virtual events. Technology allows us to create educational and experiential paths user-friendly, engaging and interactive sessions that can keep attention high and facilitate the knowledge exchange typical of live events".
"We are convinced that despite the social distancing imposed by the health crisis the need for meeting people face-to-face will remain. We strongly believe in the power of events, where people interact, collaborate, learn and build relationships – says Patrizia Semprebene Buongiorno, Vice-President of AIM Group International. At this time, events can only be online but the digital transformation is part of a wider evolution process that, began as a result of a crisis but will last into the future. At AIM Group, we quickly created inter-functional teams making available our know-how to better support our clients by generating ideas to create new experiences and to work on content in a more interactive way. We look forward to continue this innovation and to work with our clients to step into new pathways».