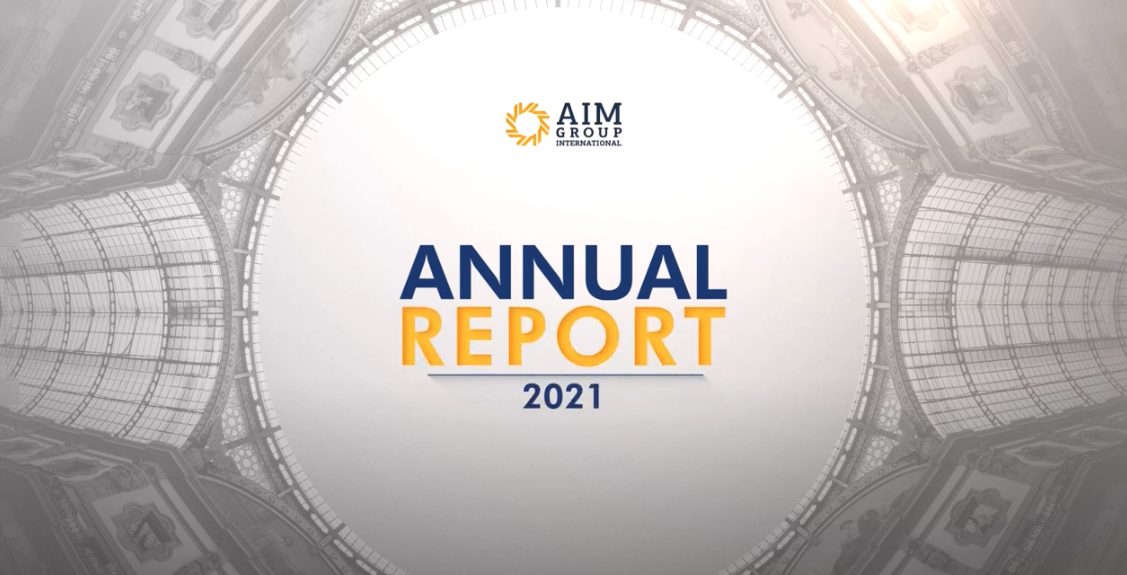 19-09-2022
AIM Group presents its Annual Report 2021
Despite the very difficult context, 2021 marks a fundamental step towards the regeneration and growth process settled by the management team for the future of the Group.
AIM Group International, leader in events, meetings and communication, presents the results of 2021 with a short video as the 2021 Annual report.
Watch the video:
A clear strategy
"In 2021 we braved an unprecedented storm, faced many challenges and overcame limitations. We stayed connected despite social distancing, we successfully re-thought our business model, transformed our services and solutions, invested in innovation and evolved", says Gianluca Buongiorno, President AIM Group International.
"In 2021 we fought to preserve 60 years of company history, the value of our outstanding brand and the trust of the wonderful people who work in our group. We underwent a process of profound regeneration and focused on managing change to return to growth and guarantee a long and prosperous future" outlines Gianluca Scavo, CEO AIM Group International.
The results
Here are the results of the year.
Overall Consolidated Balance
Turnover         58,8 Million euro
Ebitda             +4,2 Million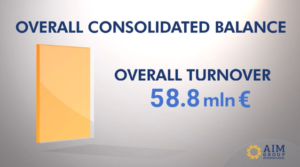 Revenue By Business Segment:
33% Conference Management
21% Healthcare Meetings
12% Corporate Events
12% CME Events (Continuing Medical Education)
8% Communication
7% Association Management
7% Incentive & DMC Services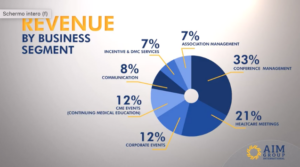 The major achievements
AIM Group provided clients with cutting-edge solutions that met their objectives, outperformed their expectations and were widely acknowledged. 2021 in Numbers:
500+ live, digital & hybrid projects realised in 2021
300+ clients
95.000 event participants
Countless meaningful connections
In 2021 AIM Group received important acknowledgments in the market, with two International Awards Won:
IPR Olympics – Best Event – FCE Awards. The FCE Award 2022 gave recognition to the member who has reacted in the most innovative way to the changes and challenges occurred in the recent years by realising an event where technologies were exploited to support and encourage the active involvement of participants.
AIM Group International – Best PCO – Eventex Global Awards.
Corporate Social Responsibility
AIM Group is committed to a better present and future for our Planet, People and Community.
In 2021 AIM Group signed the Net Zero Carbon Events Pledge, a joint commitment across the events and meetings industry to achieve the targets laid out in the Paris Climate Accord. Here the planned objectives:
-50% Carbon Emissions by 2030
Net Zero Emissions by 2050
"It's only when human beings come together that extraordinary things become possible.
We did our best. And that's why we praise our endless evolution" adds Gianluca Buongiorno.